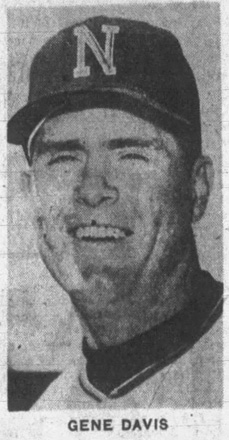 Born on May 1, 1934, in Jacksonville, Florida, Gene Davis played amateur baseball for his hometown Florida Post 9 Generals, one of the premier American Legion programs in the United States. A third baseman, he garnered attention from scouts for his playing abilities and, in 1953, was offered a professional contract with the St. Louis Cardinals.
Signing his first contract at the age of 19, Davis was assigned by the parent club to play for Albany, the Cardinals' Class D entry in the Georgia-Florida League. It was the beginning of Gene's minor league career that would last for nine seasons.
In his first professional game with Albany, Davis was hitless at the plate. Undaunted, he proved his worth by hitting safely in his next 20 games until his streak ended in a game against Waycross. On May 19, Davis collected four hits as his team set a single-game Georgia-Florida League record with 21 runs and 23 hits.
At 6′ 1″ and 185 pounds, Davis had minor league stops in Hamilton (PONY), Lynchburg (Piedmont), Peoria (I-I-I), Sioux City (Western), and Winston-Salem (Carolina), all in the Cardinals' organization. His best season was in 1954 at Hamilton (Ontario, Canada), where he built a .345 batting average on 173 hits, 62 extra-base hits with 12 home runs, and 270 total bases.
While playing with Hamilton on May 5 against Bradford, Davis' first inning pop-up bunt was caught by pitcher Dave Zebley who tossed the ball to second base to double up the runner. The subsequent throw to first caught another runner for the third out and secured the PONY League's first triple play of the 1953 season.
On May 11, 1954, Gene's lone hit was enough to break up a no-hit bid by Corning pitcher Bobby Adubato.
With Peoria in 1956, Bob Bauer and Davis both hit home runs in the seventh inning of the game on July 15 to defeat Cedar Rapids. Together again the next season with Winston-Salem, Davis and Bauer duplicated their feat by each socking a home run on June 21, 1957, against the High Point-Thomasville Hi-Toms.
Signing with Washington (AL) after the 1957 season, Davis was assigned to Charlotte (South Atlantic), playing there for two full seasons while splitting 1960 between Charlotte and Wilson (Carolina).
Davis' debut on South Atlantic League soil got off to a terrific start. On April 13, 1959, in Charleston, Davis had four hits in five plate appearances with three runs batted in to pace Charlotte to a 12-6 win in front of 2,727 chilly fans on Opening Night. A few days later, on April 17, right fielder he slammed two home runs to provide the margin of victory in Charlotte's 10-9 win over Jacksonville.
A freak single by Davis on May 28 spoiled a no-hit bid by Asheville pitcher Jack Taylor. His rap to the mound in the fifth inning struck the pitching rubber and shot into the air. Before third baseman Don Le John could grab the ball and throw to first base, Davis had safely crossed the bag. It was the only hit Taylor gave up in winning over Charlotte 4-0.
Davis was named to the 1959 All-Star team, which faced the Gastonia Pirates in the South Atlantic League All-Star Game at Charlotte on July 21. The 10-inning affair, won by the SALLY All Stars 8-7 with an attendance of 3,593 fans, had initially been scheduled for July 20 but was delayed until the next evening due to rain.
In 1961, the Senators moved to Minneapolis and became the Minnesota Twins, signing a minor league agreement with Nashville of the Southern Association as the Twins' Class AA affiliate. Gene joined the Vols as an outfielder and to play third base, his original position when signed by the Cardinals.
On Opening Day in Nashville, April 8, Vice-President Lyndon Johnson was on hand to throw out the ceremonial first pitch with 5,224 Sulphur Dell fans in attendance. Senators Estes Kefauver and Albert Gore also attended the game.
Davis did not start, but batted as a pinch hitter for relief pitcher Leverette Spencer in the sixth inning, and reached first base on an error but lifted for pinch-runner Bill Felker. Nashville lost the game, 5-3.
On May 3, and trailing the Birmingham Barons 8-7 in the bottom of the ninth with two out, Vols manager Jim Turner sent Davis to the plate to pinch-hit for Glen Crable. With the fans leaving their seats expecting a Nashville loss, Davis hit a homer to tie the game 8-8, sending spectators back to their seats. The Vols won when Billy Joe Davidson walked, and Rod Kanehl's single sent him to third, and Davidson scored on a wild pitch as Nashville won 9-8
An unusual play occurred on May 5 against Macon when Davis smacked a liner that struck second base. The Vols lost, 9-4.
Two days later, in the first game of a doubleheader against Macon at Sulphur Dell on May 7, Davis played the role of spoiler as Macon southpaw Jim Bailey nearly tossed a no-hitter. A small crowd of 1,277 watched as Bailey held the Vols hitless for eight and two-thirds innings before Nashville's clean-up hitter Joe Christian slapped a curveball just beyond the reach of Macon second baseman George Holder to spoil the no-hit bid.
Still hopeful for a Macon win, Bailey's efforts went for naught when Gene poked a waist-high curve for a 280-foot home run over Nashville's famous right-field fence to seal the 2-0 win for the home team. Lefty Gene Host got the win by allowing only four hits against the Peaches.
Although Davis had been a consistent mid-teens home run hitter, his statistics had never measured up to his year in Hamilton. During his later seasons, his batting average remained close to his minor league career average of .283.
The May 31, 1961 issue of The Sporting News listed under the heading "Deals of the Week" that Gene Davis had been released by Nashville, along with pitchers Gene Host and Al Johnston.
During his two-month stint with the Vols, Davis appeared in 25 games, had 13 hits (including four doubles and two home runs) and a .228 batting average before being released. At age 27, it was his last professional season.
He retired from the United States Postal Service after 42 years with the US Postal Service and served as manager at the Mayport Post Office.
Davis passed away at the age of 83 in Jacksonville on October 28, 2017, and was buried Arlington Park Cemetery, Jacksonville.
In addition to the sources cited within this biography, the author consulted The Southern Association in Baseball 1885-1961 by Marshall Wright, Jefferson, North Carolina, and London: McFarland & Company, 2002
Sources
Nashville Banner
Nashville Tennessean
newspapers.com
Paper of Record
sabr.org
The Sporting News
© 2020 by Skip Nipper. All Rights Reserved.