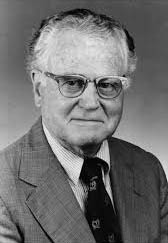 One of the people I admire is sportswriter Fred Russell. He joined the Nashville Banner in 1929, and when the newspaper went out of business in 1998, he was sports editor and vice-president. He wrote extensively, was the author of three books on sports, received many awards, is a member of the Tennessee Sports Hall of Fame, and was a protégé of Grantland Rice, the "Dean of American Sportswriters."
Russell was a serious reporter, but he enjoyed telling a tall tale or two. Reporting funny quips and stories was one of his passions. Here's one of them, taken from his May 20, 1943, Sideline Sidelights column entitled, "Big Dog Sale":
Among the better player-umpire stories is the occasion when Hughey Critz, former Cincinnati and New York infielder, bought a hunting dog from Umpire Charley Moran, of Horse Cave, KY., during a ball game. Here's the dialogue, as remembered by Stanley Frank:
"They tell me you've got some mighty fine bird dawgs," Critz remarked as he stepped into the batter's box. "What are you asking for a good one?"
The pitcher wound up.
"A hundred and fifty dollars," Moran replied. "Ball one."
"That's a lotta money," Critz observed.
"He's the best old houn' dawg in America. Strike one."
"Is he a fast critter?"
"Fast? Rabbits climb trees when they see him. Every time. Ball two."
"What color is he?"
"Liver and white. Sure is a handsome animal. Strike two."
"Can he retrieve?"
"Through hell and high water. Ball three."
"Okay, I'll take him."
"That's fine. Ball four."
'Tis said that Catcher Gabby Hartnett, a party to the conversation, whipped off his mask and turned to Moran. "If you're going to sell any more dogs that way," he said, "for Pete's sake don't sell 'em to .200 hitters."
Note: Charley Moran was born in Nashville in 1878. He coached the University of Nashville football team in 1900 and 1901, played minor league baseball in Little Rock, Chattanooga, and Dallas, spent two years with the St. Louis Cardinals, and became a major league umpire in 1918. He retired in 1939 and died in Horse Cave, Kentucky at the age of 71.
Sources
Nashville Banner
Newspapers.com
Vucommodores.com
© 2020 by Skip Nipper. All Rights Reserved.