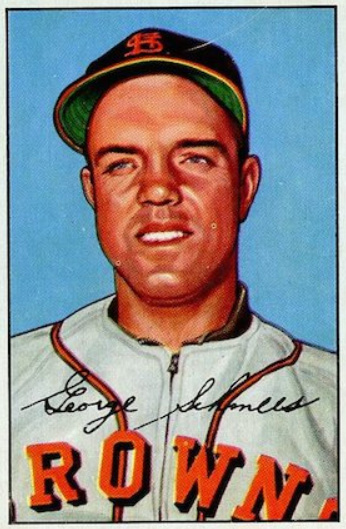 In a Sunday doubleheader against New Orleans at Sulphur Dell on June 22, 1958, Buddy Gilbert and George Schmees led Nashville to its fifth and sixth consecutive wins, 9-3 and 8-6.
Schmees had four hits in eight at-bats, including two home runs – one was a grand slam in the first game – and drove in eight runs. Gilbert had two home runs, his 18th and 19th of the season, driving in seven runs with four hits in five plate appearances. He had quite a run during the week, with 19 hits in 32 times at the plate, including seven homers and 21 RBI, hitting safely in each of the last 13 games, increasing his batting average to .302,
It was a superb performance for the duo, but immediately after the game, Schmees was told he had been sold to Salt Lake City of the Pacific Coast League, ending his 2 1/2 -year tenure with the Nashville ball club.
Two years earlier, on July 1, 1956, in a game against Birmingham in Nashville, Schmees made his mark on Sulphur Dell fans when he slammed a three-run home run to lead the Vols to an 8-6 victory in the first game of a doubleheader. It was his 14th of the season.
But in the second game, he earned his calling as one of the best outfielders to ever maneuver Sulphur Dell's hills when he hauled in a fantastic catch in the sixth inning to aid in Nashville's 11th consecutive win, 4-0.
Nashville Banner sportswriter George Leonard was undoubtedly impressed by it.
"Is it possible anyone made a more sensational catch than centerfielder George Schmees' grab of Sam Suplizio's tremendous drive – pure larceny – in the second game?"[1]
The largest crowd in three years, 6,812 fans, witnessed the feat, and Leonard went on to describe the grab in detail.
"Schmees backhanded haul-in of Suplizio's 410-foot smash up the centerfield dump was the finest catch of the year by an outfielder in the Dell."[2]
Dick Sisler became Vols manager in 1957 and moved Schmees to right field, and firmly entrenches him at the top of the list of all premier Sulphur Dell "mountain goats", as outfielders were often called.
By then, he had gained the accolades of another Banner sports editor, Fred Russell.
"Heretofore the writer has put George Schmees in a class with past Vols, Babe Barna, Chuck Workman, Ed Sauer and Doc Wiseman (the latter, of the 1901-1911 period, slightly before his time) as the most agile and skilled right field dump patrollers in the Dell. Believe now Schmees belongs at the top."[3]
Born in Cincinnati, but making his home in San Jose, the 6' 0", 190 lb. slugger was still drawing accolades from Russell in the spring of 1958 as his Nashville career was soon to be over. His 1957 season included 17 home runs and 112 RBI, and it was expected he would continue to provide power for the Vols.
"I'm not writing this in an effort to compare (to Vols outfielder Lance Richbourg, 1923 & 1933-1937). All I'm trying to say is that George Schmees, in his third season as a Vol, has gained popularity in the most unusual way I've witnessed.
"…(Schmees) is the darling of Dell fandom because he races from the right field foul line to deep center making exciting catches.
:…he has taken a lot more out of the right field dump than the right field dump has taken out of him."[4]
Before the splendid game on June 22, his batting gone sour, Nashville general manager Bill McCarthy worked a straight cash deal to sell Schmees to Salt Lake City. The surprise to McCarthy was that the popular Vol was going to have such a day in the doubleheader that signaled his last in a Nashville uniform.
Nashville Tennessean sportswriter F. M. Williams made the announcement the next morning.
"George Schmees, whose antics on the right field dump and consistent hustling over a two-and-a-half year span earned him the role of "most popular" Nashville vols yesterday was sold to Salt Lake City.
"Schmees' sale comes as a shock to most Vol fans, but had been expected by insiders. His failure to hit this year has been one of the reasons for Nashville's poor showing in the Southern league pennant race."[5]
The trade did not fare well for the Bees, nor Schmees. Finishing the Pacific Coast League season with a .219 batting average and only 2 home runs did not bode well for him. His professional baseball career ended when the Memphis Chicks purchased his contract in January of 1959, but he chose to retire from baseball.
For 32 years, he worked at Bernard Food Industries as a food processor foreman and resided in San Jose. Schmees died on October 39, 1998, in San Jose. He is buried in the city's Oak Hill Memorial Park.
The man who captured the hearts of Nashville fans had spent 1952 in the majors, first with the St. Louis Browns, then claimed by the Boston Red Sox off waivers on June 30. But no matter his defensive prowess in the outfield, his lifetime batting average of .268 in 12 minor league seasons kept him from gaining the glory of his Sulphur Dell passage.
Including the sources listed, Bill Nowlin's biography of George Schmees (https://sabr.org/bioproj/person/george-schmees) and The Sporting News Baseball Players Contract Cards Collection (https://digital.la84.org/digital/collection/p17103coll3) were also consulted.
Sources
Baseball-reference.com
Nashville Banner
Nashville Tennessean
Newspapers.com
Sabr.org
Notes
[1] George Leonard, "To the Vols, Odds Have No Meaning," Sidelines column, Nashville Banner, July 2, 1956, 22.
[2]Leonard, "Vols Soar on 11 Straight Home Victories," Nashville Banner, July 2, 1956, 22.
[3]Fred Russell, "Six All-Star Vols, It Says Here," Sidelines column, Nashville Banner, June 27, 1057, 42.
[4]Russell, "Popularity Can Be Strangely Earned," Sidelines column, Nashville Banner, April 10, 1958, 35.
[5] F. M. Williams, "Schmees Sold To PCL Club," Nashville Tennessean, June 23, 1958, 15.
© 2020 by Skip Nipper. All Rights Reserved.