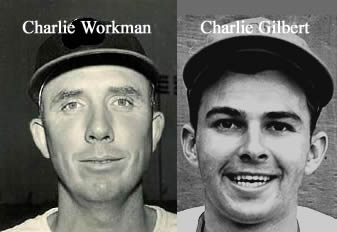 In 1927 Babe Ruth hit a remarkable 60 home runs for the New York Yankees. Lou Gehrig had 47, and for many years their two-person total of 107 was the benchmark for home runs by two teammates.
In 1961 Roger Maris of the Yankees hit 61 for the season, breaking Ruth's single-season record, and Mickey Mantle hit 54 to give the duo a total of 115. The Maris-Mantle record still stands.
In comparison, when Barry Bonds hit his record-breaking 73 homers in the 2007 season, teammate Rich Aurilia's 37 round-trippers gave them a total of 110.
Nashville had a few tandem sluggers, too. In 1930 first baseman Jim Poole slugged 50 home runs and second baseman Jay Partridge added 40 to set a Southern Association record of 90. Two years later, Moose Clabaugh and Stan Keyes combined for 67 but fell far short of the Poole-Partridge tally.
But in 1948 Charlie Workman and Charlie Gilbert hit 96 home runs combined; Workman had 52, and Gilbert added 44. It was an especially notable feat in that the entire club hit only 60 the previous season.
The pair had previously played for Nashville with very little home-run success. Gilbert roamed the outfield hills for his manager and father Larry Gilbert in 1939 and 1943 and had 21 total. Workman played for the senior Gilbert in 1941 and 1942. His production increased from 11 to 29 those two seasons, but both players especially found the Sulphur Dell fences to their liking during 1948.
In 1949 two new sluggers appeared on the scene and immediately chased the record of the previous season. Catcher-outfielder Carl Sawatski, with 45, and outfielder Herman "Babe" Barna with 42 gave the Nashville club an added season of slugging success with 87 combined.
The Southern Association record for home runs by one player came in 1954 when Nashville's Bob Lennon hit 64. Nearly reaching the 1932 combined record of Clabaugh and Keyes all by himself, the second place slugger for the Vols was Larry DiPippo, who had 20. His and Lennon's output totaled 84.
Taking the comparison one step further, the major league record of 165 home runs by four players on the same team in a single season is the 1961 New York Yankees: Maris with 61, Mantle with 54, Bill Skowron with 28, and Yogi Berra with 22.
Next is 147 by the 2001 San Francisco Giants: Barry Bonds with 73, Rich Aurilia with 37, Jeff Kent with 22, and Marvin Benard with 15.
Nashville had two teams with impressive homer stats that are not too far off from those major league totals; both the 1948 and 1949 club tallied 129:
In both of those seasons, the quadruplets hit for a combined .351 average and led Nashville to Southern Association pennants. No other combination has come close to those feats, even with Bob Lennon's excellent record-setting season, the 1954 team tied for seventh place:
In the history of Nashville baseball, none could match the slugging combinations of 1948 and 1949.
Sources
baseball-reference.com
Nashville Banner
Nashville Tennessean
newspapers.com
Russell, Fred, and George Leonard. Vol Feats 1901 – 1950: Records, History and Tales of the Nashville Baseball Club in the Southern Association: Nashville Banner, 1950.
© 2020 Skip Nipper. All Rights Reserved.