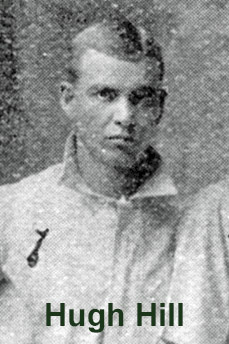 In the 61-year history of the Southern Association, only three players hit over .400, and each one were Nashville players. In all, 18 players who led the league performed in a Nashville uniform.
None takes the cake like Hugh Hill in 1902. In the inaugural season for the league the year before, Hill played in 51 games and batted .328. The outfielder and right-handed pitcher who hailed from Ringgold, Georgia, also won six and lost five games from the mound.
The next year, a season in which Nashville was defending the first Southern Association championship, Hill led with a .416 batting average, an all-time high, also scoring 99 runs to top the league totals.
To add to his laurels, he posted a 21-11 won-lost record, best in the league. On August 28, 1902, he fanned three New Orleans Pelicans on nine pitches, and two days later became the first player in Southern Association history to have two hits in one inning.
Hill's batting average record would not come without some guarded inspection, even though he was named batting champion in the Southern Association record book. In Marshall D. Wright's excellent volume on the league, "The Southern Association in Baseball 1885-1961", Hill's record is not recognized as best that year:
"Ray Nemec, a founding member of the Society for American Baseball Research (SABR), went through the league game by game and made a startling discovery. Hill didn't hit .416 that season. In fact, he was nowhere close.
"As a result of Nemec's research, Hill lost 37 hits while gaining 21 at bats to finish with a solid but no spectacular .296. The real batting titlist was Shreveport's Frank Huelsman (.360)."
I prefer the Southern Association record book that includes Hugh Hill's .416 batting average as correct, as there was no objection to the batting record of 1902 at that time. It stands to reason Nemec and Wright place their own standard on qualifying "at-bats", of which there is no source, only of box scores located. As statistics were reported to the league office and accepted, the record is "official", in my opinion.
Surprisingly, it would be 29 years before a Vols player would win the batting title again, Moose Clabaugh did it in 1931 when the Vols finished dead last in league standings, and repeated on top of the league averages in 1932. Clabaugh, who earned a call up to the Brooklyn Dodgers for 11 games in 1926 after slugging 62 home runs for Tyler Trojans (East Texas League – Class D), led the Southern Association with 23 home runs in 1931. Although he followed with 32 round-trippers in 1932, Stanley Keyes hit 35 as the pair finished 1-2 in that category.
Phil Weintraub was the second Vols player to hit over .400. In August of 1934, the 26-year-old Chicagoan earned a call up to the New York Giants. Hitting .401 at the time, he had just enough plate appearances to qualify for the batting title.
Doug "Poco" Taitt followed with a .355 average the next season, also leading the league with 194 hits and 17 home runs.
Bert Haas became the first Nashville player to have the best batting average as a right-handed hitter. His .365 average in 1939 gave the Vols five batting championships of the decade. Les Fleming won it in 1941 as the third Nashville hitter to bat over .400 with a .414 average. He would earn a call from the Indians for 1942, where he appeared in all 156 games for Cleveland, batting .292.
Charles English and Ed Sauer were the second and third right-hand batters to lead for Nashville. English at .341 (also leading with 201 hits, 50 doubles, and 139 RBI) and Sauer's .368 in 1943 (Sauer led with 30 stolen bases, 51 doubles, and 113 runs and was named league MVP) were tops before lefty Smoky Burgess broke the string in 1948 at .384.
When right-handed batter Bob Borkowsku won the batting average with a .376 average, it gave Nashville hitters five batting titles in a decade for a second time.
But in the 1950s, no less than seven Vols came out on top of batting averages. Babe Barna (.358) and Rance Pless (.364, also led with 196 hits), and Bill Taylor (.350), the only title-winner not to see action in the major leagues, won the first three titles to begin the decade.
Perhaps the most magnificent season of any player came in 1954, when Bob Lennon won the Southern Association's "Triple Crown with a .345 batting average, 64 home runs, 161 RBI, and added 210 hits and 139 runs. He was resoundingly named Most Valuable Player.
In 1955 Charlie Williams (.368) gave Nashville a string of five consecutive batting titles, as Stan Palys and Jim Fridley were the last two Vols in 1957 and 1958.
Here's the complete list of Nashville's hitting leaders:
Author's note: Four years after Sulphur Dell was "turned around", right field became a pronounced hill with the fence 262 feet down the line from home plate. It does not appear the narrow field gave either left-handed or right-handed hitters the advantage. Eight of the 18 batting titles were hit by right-handed batters, with 10 hit by left-handed batters.
In addition to the sources noted below, the author consulted baseball-reference.com, player biographies from the SABR Bio-project at sabr.org, and newspapers.com.
Sources
O'Neal, Bill. The Southern League: Baseball in Dixie 1885-1994. Austin, Texas: Eakin Press, 1994.
Russell, Fred, and Leonard, George. Vol Feats 1901-1950. Nashville, Tennessee: Nashville Banner, 1950
Wright, Marshall D. The Southern Association in Baseball 1885-1961. Jefferson, North Carolina: McFarland & Company, 2002.
© 2020 by Skip Nipper. All Rights Reserved.