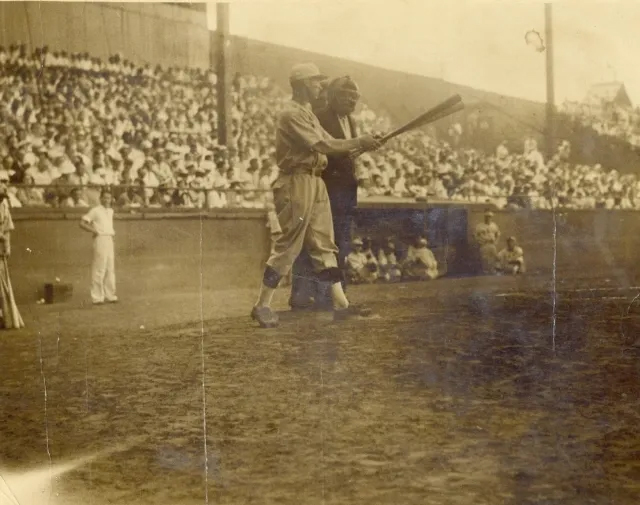 Born in DeFuniak Springs, Florida, on December 18, 1897, Lance Clayton Richbourg attended Walton High School in his home town. In 1919 he played for the University of Florida baseball team for one season, later earning his degree in 1922. The 5'11" 160-pounder signed to play professionally in nearby Dothan, where he roamed the outfield for the Dixie League team for two years before moving from D to Class C ball with Newport News in the Virginia League.
From Dothan to Oakland, Newark, and Beyond
He was signed by New York Giants manager John McGraw in 1919 and began playing for Oakland of the PCL and Newark of the International League in 1919 at the age of 21.
Richbourg bounced between Grand Rapids, Toledo, and Dallas as an infielder before settling in with Charleston of the South Atlantic League. It was from there that he first joined Nashville in 1923 and converted from first base to the outfield.
First Joined Nashville in 1923
In Nashville, he batted .378 before moving on to Milwaukee of the American Association, where he stayed for two seasons, moving up to the parent Boston Braves in 1927 for five years. Traded to the Chicago Cubs, he finished his major league career in 1932 after being sent to Reading and then Albany of the International League.
Richbourg returned to Nashville in 1933 when he was purchased from Rochester for $3,000[1]. In 140 games, Richbourg batted .359, only .002 behind league batting champion Frank Orem Waddey of Chattanooga.
Richbourg would probably call the end of the season-ending doubleheader on September 10 in Sulphur Dell against Atlanta a good day, as he had three doubles and a single. The next afternoon would be a good day, too, as Richbourg married Elizabeth Taylor of Gadsden, Alabama, in the Nashville studio of Dr. W. F. Powell. Powell, a close personal friend of the ballplayer, performed the ceremony.
The couple chose to accompany Jimmy Hamilton's All-Star team on a barnstorming trip to Mexico for their honeymoon. Ten games were scheduled on the trip, which was to last 17 days, with Richbourg managing the club and Hamilton taking care of financial affairs.
Fisticuffs in Mexico
The Major League All-Star squad won six of ten games, but on October 22, Richbourg was struck in the face by Cuban umpire Senor Hernandez after Richbourg disputed a decision at home plate.
According to one newspaper account, Hamilton reported Richbourg held his own.
"Not only are the American(s) playing some fine ball but according to Mr. Hamilton, Lance Richbourg gave the fans a neat exhibition of how fast one can use his fists. He is said to have let the Mexican ump have it in machine-gun fashion."[2]
Injury-Prone
There were hopes for a successful 1934 season, and Chuck Dressen's Vols rose to the occasion by winning the first half of the split season standings with a 46-26 record. But six games before clinching, on June 26 in Memphis, fate struck a hard blow. Having slugged a three-run home run in the fifth, in the ninth inning Richbourg broke a small bone in his foot rounding third base. The Memphis doctor who examined the x-ray declared Richbourg would be out of action for six weeks.[3]
It was a repeat of an accident in Chattanooga in May of 1923 during Richbourg's first stint with the Vols, and occurred at third base, too. On a hard slide into the bag, his ankle snapped, and in agony, rolled off the base and was tagged out. Richbourg did not finish the season.
Vols Interim Manager
A month after the ankle injury in Memphis, Dressen was named manager of the Cincinnati Reds, and Richbourg was named to replace him as manager for the remainder of the year.[4]
Surprisingly, during baseball's winter meetings, Frank Brazill was named manager for 1935. He had just come off his first managing job at Greenville, Mississippi, with the Class-C Buckshots in the East Dixie League. Nashville sportswriter Fred Russell took note of Brazill's fiery on-field personality two months into the season.
"Frank Brazill's success will come quicker when he sells himself to his tormentors instead of making them believe he prefers their displeasure. By temperament [sic] away from the field his is mild mannered, a man with perfect habits. His tongue is sharp on the baseball field.
Nashville dropped below .500 with a loss to Memphis in Sulphur Dell on June 5, giving the club a 24-25 record. Team owner Fay Murray had seen enough and fired Brazill after the game. Richbourg took over as replacement until Johnny Butler was appointed manager a few days later. Butler had managed the Decatur, Illinois, Commodores in the Three-I League until being named the Vols head man.
The ball club clinched fourth place on September 10 and finished with a 79-68 record, but lost to Atlanta in the first round of the Shaughnessy Playoffs.
Named Full-Time Manager in 1936
Richbourg became the full-time manager on November 16, 1935, and his hometown of Defuniak Springs planned a homecoming for him on March 20, 1936, when Nashville was to play the New York Giants in spring training. Over 2,500 fans witnessed the game as the Giants won 19-8.
Nashville finished in second place, seven games behind Atlanta, and clinched a playoff spot against Birmingham in the first round of Southern Association tournament. Richbourg's club lost three-games-to-two and their 1936 season was over.
Dressen Returns
Ironically, Charles Dressen was named manager of the Nashville Vols on October 9, 1937, to replace Richbourg, as Nashville slipped to fifth place, 17 ½ games out of first place in 1937. Richbourg was named manager of Richmond of the Piedmont League for 1938, a position he held for two seasons before finishing his managing career in 1940 with Fort Pierce of the Florida East Coast League and Tallahassee of the George-Alabama-Florida League in 1941.
Richbourg passed away on September 10, 1975, in Crestview, Florida, at 77, and was buried at Live Oak Park Memorial Cemetery.
Sources
Baseball-reference.com
Nashville Banner
Nashville Tennessean
Newspapers.com
Sabr.org
Notes
[1] "In Home Sports Arena in 1933," Nashville Tennessean, December 31, 1933, 9.
[2] Fred Russell, "Sideline Sidelights" column, Nashville Banner, October 27, 1933, 10.
[3] Blinkey Horn, "Vols Lose Richbourg for Six Weeks with Broken Foot," Nashville Tennessean, June 27, 1934, 10.
[4] Russell, "Lance Richbourg Named Manager of Nashville Club," Nashville Banner, July 28, 1934, 8.
© 2020 by Skip Nipper. All Rights Reserved.