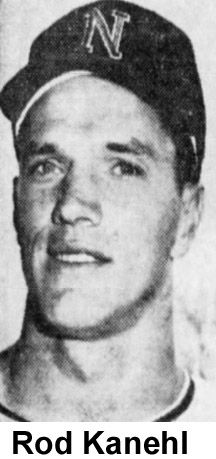 One of Nashville's most popular players was scrappy Rod Kanehl.
On April 1, 1934, he was born to Raymond and Marjorie Kanehl in Wichita, Kansas, and when his family moved to Springfield, Missouri, he excelled in football, baseball, track, and basketball at Springfield High School.
Signed by the New York Yankees as a free agent in 1954, his best full season was his first one, as he hit for a .313 average with the McAlester Rockets in the Sooner State League (Class – D). It was the only season he hit as many as ten home runs, averaging just over three a season in 11 seasons at all levels.
Moved Through the Minor League Ranks
Over the next few years he moved to various clubs in the Yankees organization: Monroe in the Cotton States League (Class – C), Winston-Salem, Carolina League (Class -B), Peoria in the Illinois-Indiana-Iowa League (Class – B), Dallas in the Texas League (Class – AA), Richmond in the International League, Houston in the American Association, and Amarillo of the Texas League.
Sent to Nashville in the middle of the 1960 season, he batted .275 in 97 games.
Stole Home at Sulphur Dell
On July 17, 1960, in the first game of a doubleheader, Nashville's Jim Maloney scattered six hits to win his fourteenth game against five losses in winning over Little Rock, 3-2, at Sulphur Dell. In the second game, Kanehl made a memorable play that still rings in the hearts of Nashville baseball fans.
With two outs in the bottom of the tenth inning, and the score tied 5-5 and Travelers pitcher Frank Mankovitch on the mound, catcher Don 'Stumpy' Williams failed to ask for a time out before a conference to settle down his pitcher.
Kanehl took advantage of the mistake and stole home, but many of the 1,620 fans who attended the game were around to see it.
Vols manager Jim Turner stated that he has never seen such a play in his 38 years in Organized Ball.
"I had nothing to do with the play, and didn't even know what was going on until Kanehl inched by me in the third base coaching box. Then I knew just as surely as anything that he was going to try for it.
"It just shows you what a ball player can do sometimes by staying alert and on his toes."[1]said Turner.
Kanehl hit his only home run of the season on August 7, 1960, as Nashville spotted league-leading Atlanta a 6-0 lead before roaring back to win, 10-6. Kanehl's sixth-inning homer over the left-field wall was the game-winning run.
Returning to the Vols in 1961 with an adjusted batting grip, he finished the season near the top of Southern Association batting leaders with 92 runs, 174 hits, and 31 doubles.
Drafted by Expansion New York Mets
In the November 27, 1961, minor league draft, Kanehl was taken by the expansion New York Mets from the New York Yankees. It was a surprising choice, but previous events were the reason.
"In March of 1956, New York Yankees manager Casey Stengel watched in "amazement" as Rod Kanehl, the club's versatile 22-year-old prospect, scaled the fence in a do-or-die effort to catch a home run ball during a meaningless practice game. The effort left a lasting impression on Casey that when the New York Mets hired the future Hall of Fame skipper before the team's inaugural season, he directed the team's Triple-A affiliate to select Kanehl during the November 1961 minor league draft."[2]
Stengel was impressed with is ability again in February of 1959 when Kanehl was one of only four minor league players invited to the Yankees' spring training camp. At that time, Stengel was the Yankee's skipper and noted Kanehl's aggressive play.
Known as "Hot Rod" by teammates, Kanehl edged out outfielder Joe Christopher for the final Mets roster spot after hitting a ninth-inning, two-run double off the Los Angeles Dodger's Sandy Koufax ace on a check swing late in spring training.[3]
First Mets Player to Hit a Grand Slam
Aggressive play, ability, and perhaps just plain good luck rode with Kanehl during the Mets' first season. He scored the winning run in their first win, scored the tying or winning run in seven of the team's first 11 wins, and on June 6, 1962, became the first Mets player to hit a grand slam home run, against St. Louis Cardinals reliever Bobby Shantz.
Kanehl played in 133 games in 1962, 109 in 1963, and only 98 in 1964 as his role diminished to a pinch-hitter. In 1965 he was not ready to give up baseball and played for a semi-pro team in Wichita, where he led the team to the National Baseball Congress championship.
Kanehl passed away in Palm Springs, California, due to a heart attack on December 14, 2004. He was buried in Greenlawn Memorial Gardens in Springfield, Missouri.
Sources
baseball-reference.com
Nashville Tennessean
newspapers.com
sabr.org
Notes
[1] F. M. Williams, "Vols Take Two Over Travs," Nashville Tennessean, June 18, 1960, 13.
[2]David Skelton, "Rod Kanehl," Society for American Baseball Research Bio-Project, https://sabr.org/bioproj/person/rod-kanehl/, retrieved August 6, 2020
[3] Skelton.
© 2020 by Skip Nipper. All Rights Reserved.