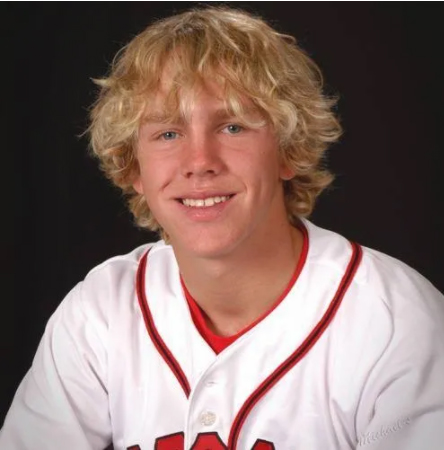 Overton's Stephen Langston nearly had one of those games very few have had, to be so close to hitting for "the cycle." With a double, triple, and home run, all he needed was a single to accomplish the feat but fell a single short.
He had one of his best games ever, 3-for-4 from the plate with a two-run home run and a two-run triple, adding six RBI to his totals. His home run was the second of the season and traveled well over the 365-foot fence in right field.
"I've never quite had a game like this in high school ball, much less in postseason," Langston told Tennessean sportswriter Chip Cirillo. "That's my job to get runners in, hitting in that three hole."
It was May 16, 2005, in a Region semi-final game played against McGavock that went only six innings, as Overton's 11-1 lead invoked the 10-run rule. With the win, the Bobcats won the right to face Franklin High School in the Region finals. The winner would host a sectional, with the loser playing on the road, both for the right to play in the TSSAA championships.
The win over McGavock extended Overton's winning streak to an impressive 29 games. With a record of 34-4, hopes were high for bringing home the trophy that would mark the team as the best of the season, and possibly one of the best in Tennessee history.
"We hear so many things," Langston told Cirillo before the McGavock game. "We hear kids at school and people out on the streets expecting nothing less than a state championship, but that's nothing less than our expectations.
With a 5-3 win over Franklin in the Region finals, Overton won over Clarksville in the sectional, 10-2, earning the right to face Collierville in Millington ,the host city of the TSSAA baseball championships. Overton won 6-4, then faced Knoxville Halls and won 13-2, and captured a spot in the finals with another win over Collierville, 11-7.
Memphis' Houston High School won over the Bobcats, 9-1, sending Overton home with a 40-5 record. It was a magical season, and Stephen Langston was one of the shining stars.
With a .449 batting average, 44 RBI, 22 stolen bases, and a .764 slugging average, his season was magical, too. A few weeks later, he was named to the First Team as an infielder on the Tennessean's All Mid-State team, and to the Tennessee Sports Writers Association's Class AAA team. Belmont University offered him a baseball scholarship.
His on-field exploits were not the only talents Langston showed. The previous January, he had awarded a scholarship by the Nashville Old Timers Baseball Association at their 68th annual banquet. The organization assists high school baseball players annually, but not for what they do on the field. Instead, for what qualities they exhibit to their family, school, and their community.
Grades make a difference, too. Langston was one of five awardees from across the middle Tennessee area.
It would be great to continue Stephen's story with accolades of college success, both on and off the field, and perhaps for local fans to read about a flourishing professional career.
Sadly, his life ended in a tragic accident just three months after his senior baseball season.
Thrown from a truck following a party in Marshall County on August 13, the young man often called Johnny "O" at school, passed away early the next morning, 15 years ago. Everyone was in shock.
He died 15 years ago today.
"From the first day he stepped out here, I knew he was going to be a special player," Overton Coach Mike Morrison said to Tennessean sportswriter Jeff Lockridge. "He was blessed with a lot of ability and he used it really well on the baseball field. Stephen never felt intimidated by anyone he faced, and kids fed off that."
Belmont baseball coach Dave Jarvis echoed Morrison's reflection.
"My first thoughts are of Johnny and Teresa and the suffering they must be going through, Jarvis said. "Stephen was an extremely gifted person. He was willing to meet the immediate needs in our program and fill some holes that we had lost to graduation. He had a tremendous baseball mentality and presence about him. Not only will we feel his loss emotionally, but we'll feel it on the field for a long time to come."
Today I asked Jarvis to tell me what he remembers about Langston, who would have celebrated his 33rd birthday on February 10.
"To this day I remember how special Stephen was. He was one of those players who showed great skill on the ball field, but we were excited to have his level of competitiveness and leadership in our program."
Asked about his potential beyond college, Jarvis did not hesitate.
"Stephen had all the tools that a player needed, and through time, could have developed into a player who could play at the next level."
Stephen's mother, Teresa, posted a touching tribute to her son on her Facebook page, adding a photo of a t-shirt from a Fall 1999 field trip when he was a student at McMurray Junior High School.
"I don't seem to have many words today, my precious Stephen. I love and miss you more each day. So today, I decided to wear one of your shirts with good memories on it. It's when you went to Washington DC in the 8th grade. Puts a smile on my face.
When the Old Timers banquet rolled around in 2006, ten scholarships were awarded. One of them was given in Stephen's memory, and his mom and dad were asked to present the scholarship to the awardee.
The Langstons have been on hand at every banquet since then, to present each winner with the very special "Stephen Langston Memorial Scholarship." It is given to a very special young man each year in recognition of his exceptional merits.
Just like Stephen's.
© 2020 by Skip Nipper. All Rights Reserved.