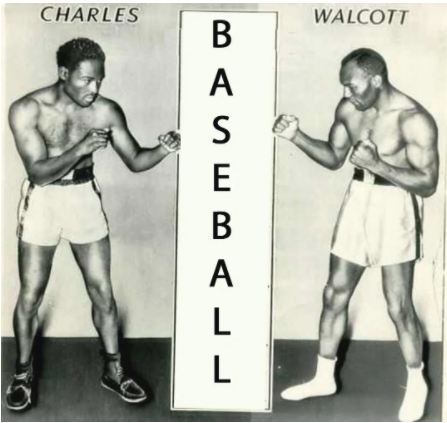 On Thursday, June 5, 1952, boxer Jersey Joe Wolcott retained his heavyweight crown in a unanimous decision over Ezzard Charles. The match held in Philadelphia's Municipal Stadium drew 21,599 fans and countless others watched on television and listened on the radio.[1]
That same night, the Nashville Vols lost at home to the Birmingham Barons by a score of 4-2. Bolstered by 1,052 members of the Knot Hole Club, paid admissions totaled approximately 700 at Sulphur Dell. In other action around the league, 894 saw the hometown Chattanooga Lookouts win over the Atlanta Crackers, 5-2. At the same time in Memphis, 816 attended the Chicks' game against New Orleans in a 2-1 win over the Pelicans. The largest crowd of the four Southern Association games was in Little Rock, as the Travelers won over Mobile, 4-2, with 2,574 on hand.
What does all this have to do with the Wolcott-Charles fight that night? An article in the June 18 edition of The Sporting News helps explain the dilemma. Without knowing it, the future is predicted in a couple of ways: in its infancy, television was making its mark, and everyone was taking notice. The news feature began with this line:
"The impact of television on baseball attendance was never more thoroughly demonstrated than the night of the Joe Walcott-Ezzard Charles championship boxing match, June 5, when clubs generally reported low gates as fans remained home to view the title bout."[2]
Whether Southern Association executives were aware or not, some teams were planning on losing many fans to the fight broadcast. Columbus of the American Association moved its game to the afternoon, and still drew only 381. Toronto of the International League postponed its game entirely.
Attendance across the minor leagues felt the effect for games played in competition with the big broadcast of June 5:
American Association
Toledo 1,952
Indianapolis 1,003
Louisville 876
Texas League
San Antonio 4,408
Houston 2,472
Shreveport and Beaumont, less than 800 each
Pacific Coast League
Hollywood 2,868 (the previous night: 6,808)
Seattle 2,388 (double header)
San Diego 1,170
Oakland 432 (game delayed)
International League
Ottawa 9,463
Montreal 4,707
Rochester 1,631
The PCL's Oakland game began once the fight was over; television sets were placed near home plate for fans to watch the boxing match. Interestingly, Ottawa, Toronto, and Montreal did not have television stations in their cities, although Toronto residents could pick up the Buffalo signal.[3]
Seven major league games were played on June 5, but only two at night in direct competition with the fight. Strange as it might seem, the Philadelphia Athletics played a home game against the Detroit Tigers at Shibe Park, but drew only 2,616. The game in St. Louis against the Boston Braves drew an attendance of 4,974.[4]
A few days after the fight, Nashville Tennessean sportswriter Raymond Johnson called attention to the battle's resounding sway that hammered Southern Association attendance.
"If anyone harbors a notion that TV does not cut down the baseball attendance, he should take a peep at the "crowd" at Southern league games Thursday night…"
Johnson continued with a comparison between Little Rock and the other Southern Association cities' opportunities for television competition.
"Over in Little Rock 2,574 cash customers turned out Thursday night…Television didn't hurt over there, because the Arkansas capital does not have TV…There are about 2,000 TV sets in Little Rock and these owners depend on programs out of Memphis…"
"Chattanooga doesn't have TV either…But Chattanoogans are able to pick up the programs from Atlanta's three television stations…There are more than 20,000 sets in and around Chattanooga, according to estimates…No doubt many of these owners are mild baseball fans…Nashville has approximately 70,000 sets…"

He finished with a statement that bodes well for the future.
"There is no doubt but that television has a powerful impact."[5]
The crystal ball of 1952 let us in on what the future would know: over time, both baseball and boxing would both reap the rewards of the real winner: television. By a knockout. And a home run.
Sources
Nashville Tennessean
Newspapers.com
Paperofrecord.com
Philadelphia Inquirer
Retrosheet.org
Sabr.org
The Sporting News
Notes
[1]John Webster, "Walcott Wins Over Charles, Retains Title," Philadelphia Inquirer, June 6, 1952, 1.
[2]"Low Gates on Night of Title Bout Show Impact of Video on Game," The Sporting News, June 18, 1952, 13.
[3]Ibid.
[4]Ibid.
[5]Raymond Johnson, "One Man's Opinion," Nashville Tennessean, June 8, 1952, 26.
© 2020 by Skip Nipper. All Rights Reserved.