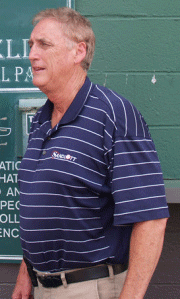 As the first general manager of the Nashville Sounds, Farrell Owens is often called on to relate first-hand accounts of baseball in Music City and is a resource for sports talk show hosts, sportswriters, and me. His life is rooted in the local sandlots, and he fondly relates a gesture from his father that started his baseball story.
"In the summer of '56, my dad bought me a first baseman's mitt at Friedman's on Charlotte Avenue after I did not make the team I had tried out for. It was my first year to try to play organized amateur baseball, and I was really down."
"That new mitt picked me up. I played all summer in the neighborhood with that glove", says Farrell.
Farrell's playing career began in Junior Knothole baseball playing for the West Side Parts team as a twelve-year-old in the summer of 1957. The next year, his team was Holder-Northern Lumber Company in the Senior Knothole League. In 1959 he played for them again, and in 1960 the team was sponsored by Pettus-Owen-Wood Funeral Home.
He did not play the next summer of 1961. As a sixteen-year-old, he had been a member of the Cohn High School team, but he chose to help his father coach the Cohn Men's Club team in Senior Knothole ball. That team won the city's league championship.
However, he played for two teams during the summer of 1962 at seventeen: for Green Hills Merchants in the Larry Gilbert League and Post 5 in American Legion ball. Selected as a Gilbert League All-Star in 1963, he is proud to say the game took place at Sulphur Dell. At the age of 19, he played for the Lipscomb College entry in the City League.
As a member of the baseball team at Cohn High School, he was named to the Nashville's All-City team. Upon graduation in 1963, he went to Lipscomb to play baseball, becoming a starter on the 1964 team but transferred to Austin Peay in the fall.
Realizing he had made a mistake in transferring, Farrell moved back to Lipscomb with the blessing of legendary head baseball coach Ken Dugan who told Farrell, "I would be happy to have you back."
Dugan was a mentor to Farrell. "While at Lipscomb, he was certainly the most influential on me, ahead of his time as a baseball coach. I took pride in learning as much as I could from him and used his techniques and management in my coaching career."
In 1966 Lipscomb won the District championship, the first school team to qualify for the Regional tournament. Farrell was centerfielder on that team. During his senior year in 1968, Farrell gained national notoriety by pulling an unassisted double play as an outfielder against arch-rival Belmont.
In 1992, Lipscomb University inducted Farrell into their Athletic Hall of Fame.
During his college career, Farrell played during the summer for the Coursey's BBQ team in the Tri-State League. The team competed as a member of the 19-and-over Stan Musial Division, a part of the American Amateur Baseball Congress (AABC).
Coursey's qualified for the Stan Musial World Series in Battle Creek, Michigan, where the team won one and lost two in the tournament, and Farrell led the tournament with a .397 average.
By 1969 Farrell was coaching high school baseball and playing in sandlot baseball in the Tri-State League, but this time for a new team, Tennessee Pride Eggs, sponsored by the company's owner, Herman Bullock. Farrell was Tri-State League Player of the Year in 1969, batting .456. His last year to play was 1972.
He began to manage the Haury & Smith Construction team in 1973 and led the team to the state championship in Knoxville. Farrell relates the story:
"One of the happiest moments of my baseball life happened to me when I was a 29-year-old manager for Haury & Smith. We were playing the Knoxville team in their hometown Bill Meyer Stadium for the Stan Musial state championship."
"The score was tied 0-0 after nine innings, but we scored two runs in the top of the tenth inning. With men on first and third and no outs at the bottom of the tenth, pitcher Butch Stinson gets the next hitter to fly out to the outfield. The runner on third scores, but the runner on first is held."
"After the next batter strikes out, a ball is sharply-hit to shortstop Ricky Wheeler who throws to Donnie Polk, covering second base for the final out. Butch had pitched a 10-inning complete game, and we won the State Championship 2-1!"
"I can remember us celebrating at the Andrew Johnson Hotel after the game, and I was so happy I yelled out, 'Bingo! One for the roses!'"
In 1974 the team won the league title once again but lost in the Stan Musial state tournament in Memphis.
In 1975 and 1976, Haury & Smith played in the National Baseball Congress (NBC) World Series in Wichita, Kansas, after winning the state and regional tournaments. Mike Wright, Steve Burger, and Jerry Bell were members of that team.
In the fall of 1976, Larry Schmittou called upon Farrell to begin organizing what would become the Nashville Sounds professional minor league team.
In 1977 while at Pearl High School, where he had become head baseball coach in 1972, Farrell wrote an article on base running published in the prestigious "Athletic Journal." That year, Farrell was inducted into the Nashville Amateur Baseball Hall of Fame by the Nashville Old Timers Baseball Association. He helped establish a new amateur league in Nashville, the Kerby Farrell League.
Leaving teaching and coaching in 1978 to help found the Nashville Sounds, he served as Vice President and General Manager for five years. The new venture became a Southern League (AA) member and an affiliate of the Cincinnati Reds. At one time, Farrell had part ownership of four minor league teams.
In 1989 Farrell began an amateur baseball newspaper, "The Sandlotter," covering play in the Greater Nashville Amateur Baseball Association (GNABA). No longer a publication, his venture became an internet source in 1997 at www.sandlotter.com, covering the SANDLOTT Mid-State League until local leagues went to travel ball and it ceased to exist after 27 years.
A lifelong Nashvillian, Farrell became a baseball player, coach, instructor, mentor, teacher, and former professional baseball executive. He served as president of the Nashville Old Timers during 1987-1988 and continues to serve on the board of directors and executive committee.
He coined the Old Timers creed: "To enjoy fellowship with baseball enthusiasts and to honor and support the great game of baseball at all levels."
Recently he was named a baseball advisor for the Nashville Stars/Music City Baseball, a venture to bring Major League Baseball to Nashville
His life has impacted many other players and friends. His counsel continues to guide and mold lives today as an authority on Nashville's baseball history.
"I have learned that there is a romantic aspect to teaching and talking about baseball. Everyone lends an ear to it."
Farrell has two daughters, Paige Patton (David), and Ashley Thomas (Drew), and a granddaughter Charlotte, born in February of 2012, and grandson Foster, born in March of 2015.
His family and friends enjoy the love he has for baseball. It is easy to, with someone who expresses his romance and passion for the game he loves so dearly.
Note: A few months ago, Farrell and I recorded conversation about his baseball career and life in general. The interview is here.
© 2020 by Skip Nipper. All Rights Reserved.