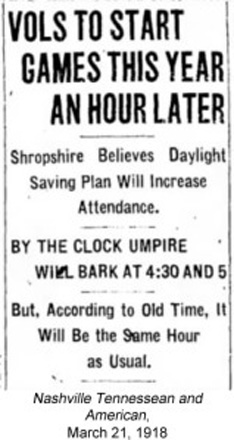 An Act "to preserve daylight and provide standard time for the United States" was enacted by resolution of both Houses of Congress on March 19, 1918.[1] The law set standard set summer Daylight Saving Time to begin on March 31, 1918.*
With the announcement by Congress, Nashville Vols president Clyde Shropshire decided to change the starting time for games at Sulphur Dell during the early part of the season to 4:30, and after that to 5 o'clock. By the added hour of daylight, he felt an opportunity would be presented to a large percentage of fans who had been denied that privilege through attachment to their work.
He thought the new plan would be a boon to his ball club since more fans would attend games as they would visit Sulphur Dell from work without missing the first hour of games. Sports writer Blinkey Horn had his own take on Shropshire's edict.
"But the Vols should be able to collect a considerable supply of turnstile lubricant from that percentage of citizens freed sixty minutes of daylight sooner from the work."[2]
The Southern Association season was scheduled to open on April 18, but Nashville was set to play in Birmingham for one game, then travel to Sulphur Dell the next day for the Vols first home game, also against the Barons.
Nashville took the game in Birmingham 7-0, but when the start time was announced for Opening Day in Nashville, it was set for 3:30 P.M, not 4:30 P.M.
Did Shropshire change his mind about the connection of time to money? Or did he have the same inkling that the newspaper did about how much savings there really would be?
*Observed for seven months in 1918 and 1919, Daylight Saving Time proved unpopular and was repealed, becoming a local option. It was instituted during World War II from February 9, 1942 to September 30, 1945 by President Franklin Roosevelt, called "War Time".
Sources
Energy.gov
Newspapers.com
Sabr.org
[1] Douma, Michael, curator. "Daylight Saving Time." (2008). http://www.webexhibits.org/daylightsaving (accessed October 15, 2020).
[2] "Vols To Start Games This Year An Hour Later," Nashville Tennessean and American, March 21, 1918, 8.
© 2020 by Skip Nipper. All Rights Reserved.