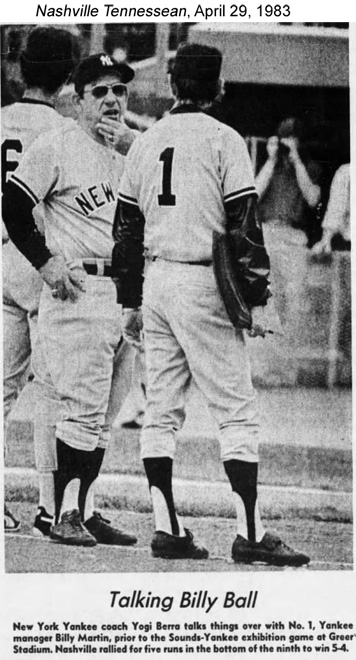 Mickey Mantle left the New York Yankees during spring training in 1953 and returned home to Commerce, Oklahoma, to treat a skin rash. Manager Casey Stengel was not happy – especially told Mantle was spending time fishing near his hometown.
Mantle's last time to the plate was as a pinch hitter on March 29, but all was well upon rejoining his team on April 7, 1953, to face the Nashville Vols. He made up for the lost time by slugging a 420-foot, 2-run double in the seventh inning, and New York won the game 9-1 before 2,693 Sulphur Dell fans.
Yankee pitching coach Jim Turner, a Nashville native, was honored at home plate before the game by Governor Frank G. Clement, who appointed Turner a Tennessee Colonel on the Governor's staff.
Irked that Mantle had laid out for over a week, Stengel heaped praise on his catcher, Yogi Berra.
"He can hit and he has a good arm. Mind you, he has a good disposition with the umpires, too. And he winds up on the All-Star team every year."
As was often the case, Berra crouched silently behind the plate that day. His contribution to the Yankee cause includes participating in one double play with Phil Rizzuto and adding a single and scoring a run. Utility catcher Charlie Silvera later spelled him, and the box score and news articles tell of no further heroics by the 1951 American League Most Valuable Player.
On the season, Berra would hit for a .296 average, drive in 108 runs, have 27 home runs and 161 hits, and finish second to Cleveland's Al Rosen for the 1953 MVP award. In 1954 and 1955, he would add the MVP trophies to his bookcase.
Named manager of the Yankees in 1964, New York won the American League championship with a 99-63 record but lost to the St. Louis Cardinals in the World Series. When Cardinals manager Johnny Keane took over as manager of the Yankees in 1965, Berra was named a New York Mets coach and appeared in nine games.
He retired as an active player in 1965 and was named manager of the Mets in 1972, and job he handled for four years. During his second season at the helm, one of his most memorable "Yogi-isms" was uttered. In July 1973, the Mets trailed the Chicago Cubs by 9½ games in the National League East when his club rallied to clinch the division title in their second-to-last game of the regular season and reached the World Series.
"It ain't over till it's over."
He returned to the Yankees in 1976 as a member of manager Billy Martin's staff.
When the Nashville Sounds and New York began their major-minor league affiliation in 1980, the two teams scheduled to play an exhibition before the regular season began, those plans thwarted when an eight-game strike delayed the remainder of the spring training season.
On April 16, 1981, the Yankees did return to Nashville to play an exhibition game versus the Sounds. A standing-room crowd of 17,318 fans attended the game as the major league team won by a score of 10-1.
"You couldn't have put another fan in Greer Stadium with a shoehorn," says Farrell Owens, general manager of the local club on that day.
In June of 1981, another strike occurred and caused the loss of scheduled games between June 12 and August 9. During that time, owner George Steinbrenner sent his coaches to various minor league affiliates to scout and instruct players at those locations.
Owens remembers those days, too.
"Yogi Berra came to Nashville for about ten days. He wore his Yankees uniform and sat in the dugout during the games. I even had my picture taken with Yogi down on the field.
In Berra's last season as a New York coach, the Yankees invaded Nashville once again, just over 30 years since his first visit. On April 28, 1983, New York had a four-run lead going into the bottom of the ninth inning, but a five-run rally with two outs pushed the Nashville Sounds to a 5–4 victory. The attendance was 13,641.
Yogi would become the Yankees manager for a second time in 1984, but Steinbrenner fired him 16 games into the 1985 season. Berra joined the Houston Astros as bench coach for three seasons and retired in 1989.
He died in his sleep at the age of 90 on September 22, 2015.
Farrell Owens knows Yogi was famous for his quotes but failed to hear any when they had time to visit.
"He didn't say a "Yogi-ism" or anything out of the ordinary as he was known to do, but I wish he had."
Sources
Baseball-reference.com
Nashville Banner
Nashville Tennessean
Newspapers.com
© 2020 by Skip Nipper. All Rights Reserved.