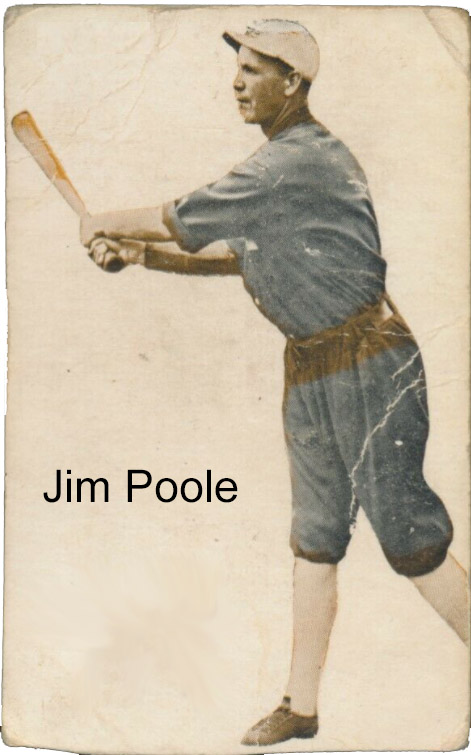 James (Jim) Ralph Poole earned his first appearance in the big leagues after four seasons with Portland of the Pacific Coast League where he had slugged 107 home runs. In two of those years, 1923 and 1924, Poole had 65 home runs (he led the PCL with 38 in 1923), batted .346, and drove in 265 runs[1], so his reputation as a slugger was strong.
In his major league debut at the age of 29 in Philadelphia's season opener at Shibe Park on April 14, 1925 against the Boston Red Sox, he popped out to third in his first at-bat in the second inning, but after a fifth-inning walk finished with a homer and two singles as the A's won 9-8 in 10 innings.
Poole played first base and outfield for the Athletics in 1925, 1926, and 1927, but his minor league career spanned 26 years. "Easy" had a minor league average of .316 but hit .364 on 215 hits and won the home run title with 50 as a first baseman with the Nashville Vols in 1930.
On June 14 of that season Poole hit three home runs, a double, and a single against Mobile to set a new league record with 15 total bases. Teammate Jay Partridge hit 40 round trippers during 1930, and together they set a Southern Association for most home runs by two players on a club with 90. The record would stand until September 6, 1948 when Nashville's Charlie Gilbert (49) and Chuck Workman (41) tied it (by seasons end the 1948 duo would end up with 94 between them for the new league record).
At Reading of the International League in 1931 Poole batted .306, had a .499 slugging percentage, hit 24 home runs (third in the league), scored 100 runs and drove in 126. The team finished in last place.[2]
Jim never found the same power again. In 1932 he bounced between three teams in the International League before finishing the season at Harrisburg in the New York-Pennsylvania League. The next season he was at Class B Winston-Salem in the Piedmont League and he never moved out of D League ball for the rest of his career.
He continued playing and managing through the 1961 season, although he retired as a player in 1947. His batboy for the Moultrie Packers in the Georgia-Florida (Class D) League in 1947 said Poole was the most superstitious person he ever knew.
"In addition to managing, he was the third-base coach. Once, early in the season he picked up a ballpark peanut on his way from the dugout to the third base coach's box. He put it in his rear pocket. We won three or four games in a row, but when we lost one, he threw away the peanut. He said that he had used up all the luck."[3]
In 16 seasons as a manager, mostly with Class D teams, he took the reins in the North Carolina, Bi-State, Appalachian, George-Florida, Western Carolina, and Mountain States League. In 1961 as Western Carolina League teams in Forest City, Hickory, and Gastonia withdrew, Poole became general manager and field manager of the Belmont club. It was a dire season that saw only a little over 10,000 fans attend 50 home games. Poole, who knew many people in baseball, asked his friends within the San Francisco Giants to supply player development funds and even players to the struggling franchise. Poole eventually resigned before the end of the season and the team finished with a 39-61 won-lost record.[4] It was Poole's last season in Organized Baseball.
Born in Taylorsville, North Carolina, on May 12, 1895, Poole passed away of a heart attack at the age of 79 in Hickory, North Carolina, on January 2, 1975. He was buried at Linney's Grove Baptist Cemetery in Hiddenite, Alexander County.
Sources
Ancestry.com
Baseball-Reference.com
Retrosheet.org
Notes
[1] Neyer, Rob. Rob Neyer's Big Book of Baseball Legends: The Truth, the Lies, and Everything Else
[2] Selko, Jamie. Minor League All-Star Teams, 1922-1962: Rosters, Statistics and Commentary
[3] Ellington, Eugene E. "Duke". What's a Country Boy Like Me Doing in a Place Like This?
[4] Buhite, Russell D. The Continental League: A Personal History
© 2020 by Skip Nipper. All Rights Reserved.