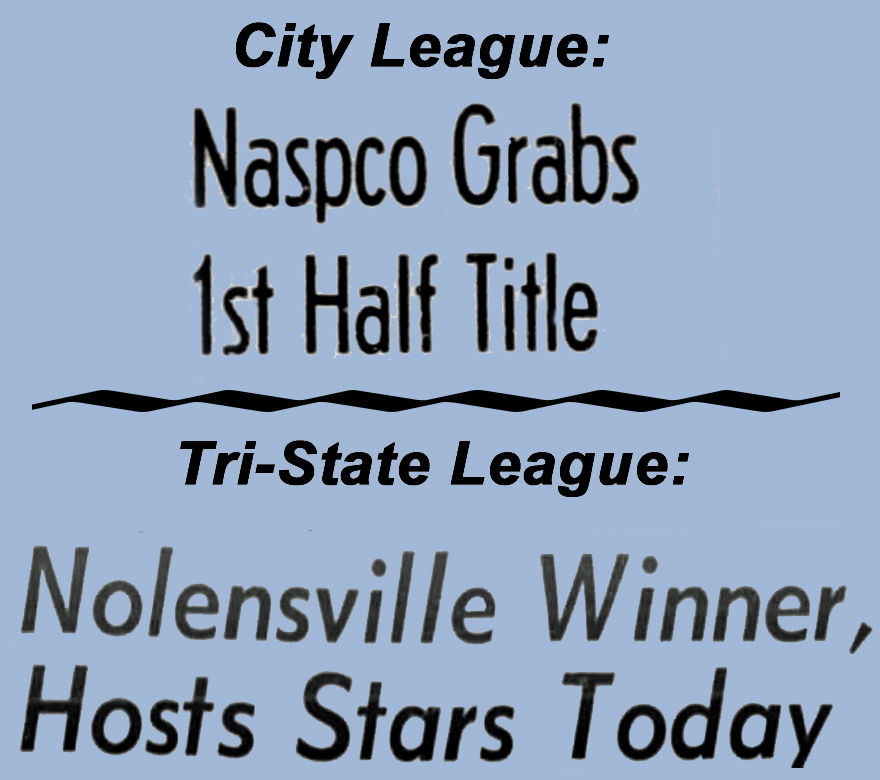 Nashville baseball flourished in the summer of 1961 as local semi-pro and amateur leagues turned the page on June and moved to the heat and humidity of July.
On tap were a couple of All-Star games.
Saturday, July 1, was the critical day for determining the host team for the Tri-State All-Star game scheduled for July 2. With the successful protest of a loss to Woodbine the previous Sunday, combined with a make-up game win over Brooks Amoco the past Wednesday, Nolensville tied Greenbrier Lumber for the league lead. It was not that easy, either, as Greenbrier lost to Mayo's Sausage, 15-11 to sacrifice first place and the right to be the host team in the second annual tilt.[1]
Depending on the loser of the playoff game, either Greenbrier's Jim Ford or Nolensville's Jack Stephens would manage the All-Stars:
Pitchers: Gene Smith (Nolensville), Don O'Saile (Brooks Amoco), Burl White (Radnor Plumbing), and Wicker Hiles (Draughon's)
Catchers: Max Rinehart (Mayo's Sausage) and Jerry Pearson (Greenbrier)
Infielders: Ira Crouch, first base (Mayo's Sausage), Wayne Hiter, second base (Woodbine Merchants), Jimmy Ferguson, shortstop (Woodbine Merchants), Channing Workman, third base (Radnor Plumbing), and Ray Honeycutt, utility (Brooks Amoco)
Outfielders: Don Tassey (Radnor Plumbing), Cordell Jones (Brooks Amoco), Jimmy Menees (Neely's Bend), and Billy Moore (Woodbine Merchants)
Nolensville won the game at Millersville, 8-5, as Gene Smith held Greenbrier to eight hits. He added a home run to those hit by Lanny McGowan and Jesse Goodman. With the win, Smith was replaced by Charley Gardner of Woodbine Merchants on the All-Star team.[2]
The next night, Channing Workman led the charge for the All-Stars with two singles and a double and a stolen base, Max Rinehart was two-for-two, and Jimmy Menees hit a double with the bases loaded for three RBI as the All-Stars won, 8-2.
Starting pitcher Don O'Saile took the win by allowing no hits in the three innings he pitched. The game was played at Sulphur Dell.
The storylines were similar in City League games played on Sunday, July 2. Clarksville finished in second place by losing to Falstaff, 10-3, while Nashville Sporting Goods won its game over Franklin, 6-4, to win the right to host the league's All-Stars.[3]
The game was scheduled for July 4 at Shelby Park, with the first pitch called at 7:30 PM.
League managers made the All-Star selections:
Pitchers: Tom Morgan (Clarksville Patriots), Bob Schultz (Falstaff Brewers), Pete Charton (Nashville Sporting Goods)
Catchers: Richard Graves (Falstaff Brewers), Wayne Smith (Franklin Merchants)
Infielders: Gerald Johnson, first base (Falstaff Brewers), Deanie Bryant, second base (Franklin Merchants, Bobby Reasonover, shortstop (Falstaff Brewers), Dave Teletchea, third base (Clarksville Patriots), Jim Kirby, utility (Falstaff Brewers)
Outfielders: Corky Hartman (Nashville Sporting Goods), Estill Lowe (Lowe Motors), Billy Isaacs (Falstaff Brewers), Roy Armistead (Nashville Sporting Goods)
With Nashville Sporting Goods' win to capture the first-half title, Hartman was replaced by Clarksville's Johnny Maddox, and Charton replaced by Franklin's John McCord.
In the All-Star game, Bob Schultz, a left-hander who was 25-6 for the Nashville Vols in 1950, tossed a complete-game in leading the City League All-Stars to a 9-5 victory over first-half champion Nashville Sporting Goods. Don Fortner was the losing pitcher. The game was played at Shelby Park.
Schultz and Clarksville third baseman Bill Teletchea, who had three hits and stole three bases (including a steal of home), were named All-Star co-MVPs. Nashville Sporting Goods centerfielder Corky Hartman, a unanimous selection to the All-Star team, was named the most valuable player for his team by manager Perk Williams.
Before the game, umpire A. B. "Tree Top" Hill was presented a plaque in honor of his many years of service to the league.[4]
With respected names included on the rosters, the two All-Star contests were exhibitions of some of the strongest competition in the Tri-State and City leagues, and built a foundation for competitive baseball for the years ahead.
Sources
baseball-reference.com
Nashville Banner
Nashville Tennessean
newspapers.com
Notes
[1] "Nolensville, Greenbrier Clash Today," Nashville Banner, July 1, 1961, 10.
[2] "Nolensville Winner, Hosts Stars Today," Nashville Tennessean, July 2, 1961, 18.
[3] "Naspco Gains City Title, Set For All-Stars," Nashville Banner, July 3, 1961, 13.
[4] Chalmers McIlwaine, "City Loop All-Stars Thump Naspco 9-5," Nashville Tennessean, July 5, 1961, 31.
© 2020 by Skip Nipper. All Rights Reserved.