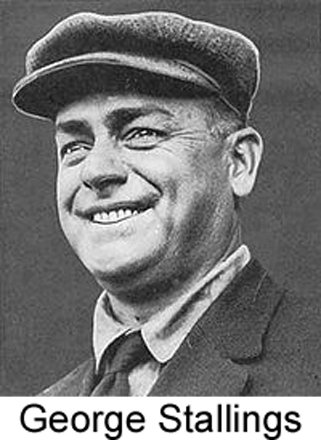 One of the influencers of early Nashville baseball was George Stallings, a bulldog personality who took his baseball style to the managerial ranks with great success.
Born in Augusta, Georgia, Stallings entered medical school but instead signed to play with the Philadelphia Phillies, although cut in spring training. He was only an average player who played in seven games in the majors.
His minor league career began in 1887, and played for Toronto, Birmingham, Galveston, Stockton, Toledo, Oakland, Hartford, San Jose, Augusta, Kansas City, Nashville, and Detroit.
While with Augusta in 1893, Stallings began his managerial career, and the next season managed the Nashville Tigers (and also played 29 games in the outfield) and the re-named Nashville Seraphs in 1895 (Stallings was a backup catcher).
The Tigers finished in second place in the Southern League one game behind pennant-winning Atlanta, but his Nashville Seraphs team won the Southern League championship in 1895.
He became a manager in the big leagues beginning in 1897 with the Phillies, and in 1910 led the New York Highlanders to a second-place finish in the American Leagues. But his greatest fame came as manager of the 1914 Boston Braves. The Braves had finished in last place in 1912; for the 1913 season, the team finished fifth under Stallings' tutelage.
On July 15, 1914, the team was once again mired in last place 11 ½ games behind the first-place New York Giants when the team began an almost-impossible streak of winning 52 of 66 games to finish 10 ½ games in front of the Giants.
The Braves surprised the heavily-favored Philadelphia Athletics by winning four consecutive games to capture the World Series championship and earn the nickname "Miracle Braves." Future Nashville Vols manager Larry Gilbert was an outfielder on the 1914 World Champion team.
From that point on, Stallings would be known in baseball circles as "Miracle Man," also credited with being the first manager to use platooning with success.
Stallings' major league managerial record was 880-900. His last year to manage at that level was 1920, but he continued to manage for seven more years at Rochester before one final year at Montreal, a franchise that he helped to resurrect in the International League.
Baseball lore tells that as Stallings was near death, his doctor asked why he had a bad heart. "Bases on balls, doc … those damned bases on balls."
Sources
Baseball-reference.com
Newspapers.com
Sabr.org
© 2020 by Skip Nipper. All Rights Reserved.