Jack Scott was a notable Major League pitcher (1916-1929) for the Pittsburgh Pirates, Boston Braves, Cincinnati Reds, New York Giants, and Philadelphia Phillies. He was a valuable member of the 1922 World Series Champion New York Giants and pitched a four-hit shutout in game 3 of the World Series. In 1917, he had a respectable 2.14 ERA and a 12-9 won-lost record for the Nashville Vols. Three years later, he would lose 21 games for the Braves, and 21 again for the Phillies in 1927.
This biography is included in "20-Game Losers" (SABR, 2017), edited by Bill Nowlin and Emmet R. Nowlin. Purchase your copy here: Jack Scott 20-Game Losers
Called on in 1922 World Series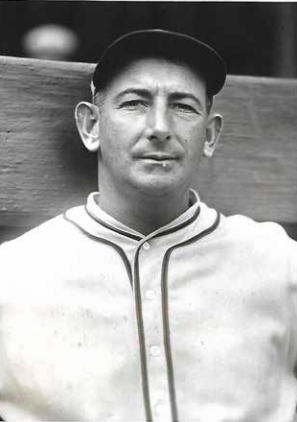 In the 1922 World Series against the New York Yankees, New York Giants manager John McGraw called on little-known Jack Scott to start Game Three. A right-handed knuckleballer, Scott held the opposition to four hits in a complete-game shutout, 3-0. Even Babe Ruth had a hard time with the 6-foot-2, 199-pound thrower, grounding out three times. It appeared Jack was on his way to stardom. But his career would be highlighted by a sequence of highs and lows.
During the summer, the Giants had signed Scott, who was cast adrift by the Cincinnati Reds in May with a sore arm that was "shot to pieces." Through the previous winter, Scott had not only suffered a bad arm, but also watched a warehouse on his farm go up in smoke.1 When the Reds gave up on him, Scott approached McGraw in the lobby of the Giants' hotel when they next visited Cincinnati. The conversation that followed let the manager know how sincere, yet bad off, the pitcher was.
"My name is Jack Scott," he said. "(Reds manager Pat) Moran fired me. But I'm not through. I know that I can come back and that I can cure my arm. All that I want is a chance to prove it."
"All right. Get back to New York and work out at the Polo Grounds," said McGraw, "I'll look you up when we come back."
"Could I have the carfare?" Scott asked, "I'm broke."2
He hurried to New York and the Polo Grounds, even working out with the Yankees (who shared the Polo Grounds with the Giants), and when the Giants returned, McGraw added him to the roster. Scott was also treated by specialists as promised,3 and he did everything he could to revitalize his arm. He worked his way into the pitching lineup, and between August 1 and October 1 accumulated an 8-2 won-lost record.
McGraw heaped praise on his new star after his World Series performance against the Yankees. "His presence there gave me a real thrill," the manager said. "That spirit wins many a ball game."4
On top of his World Series half-share amounting to $2,225.50,5 Scott earned some additional income by joining a barnstorming tour through Pennsylvania with teammates Rosy Ryan and Dave Bancroft. He injured himself in one of the games, even though McGraw had urged him to take it easy. Scott sought permission from McGraw to play in additional games on the West Coast, but the manager denied his request.
Off-season at Home
Jack's mother, expecting to meet her son at the train station upon his return to North Carolina, gave an account of what Scott should be doing in the offseason. "Manager McGraw told Jack to stay at home and rest up this winter, taking good care of his arm."6 "I had rather hunt duck down home," said her son.7
The Giants won the pennant again in 1923. Scott and Rosy Ryan led the team with 16 victories, but a repeat performance in the World Series was not to be; Scott had a loss as the Yankees won the Series in six games. In Game Four (after striking out Babe Ruth in the first inning), Scott allowed three earned runs in the second inning before being replaced, and was charged with the loss. The next day he pitched two innings of relief in what turned out to be his last postseason game.
Scott was one of a handful of pitchers to have twice lost 20 games in a major-league season, and also lost 20 with the Toledo Mud Hens. But highlight performances before, between, and after his distinction as a "repeat offender"8 more aptly define Scott's character and abilities.
John William Scott was born on April 18, 1892, to Emma and James Scott. His family owned a tobacco and fruit farm in Ridgeway, North Carolina. Jack was raised on the farm and attended Ridgeway High School. Between chores and school, he played baseball.
"He has been playing ball since he was a little boy, and I remember how boys used to come to the house to get him for games in different parts of the county," recalled his mother.9
Noted for both his pitching and hitting, Scott played for his hometown Ridgeway team, and in 1911 joined the nearby Warrenton club.10 On September 11, he struck out 15 Warren High School batters in an 8-0 shutout.11
He continued playing in the area12 before being given a tryout with the Durham Bulls (Class-D North Carolina State League). He showed up in time for the first day of practice on March 12,13 and so impressed manager James Kelly that he was named the starter in an exhibition contest against the Philadelphia Phillies on March 24. The day before the game, the Durham Morning Herald described his pitching style:
"Judging from the appearance of Scott he is a bit slow but to see this fellow heave a ball over the home plate a batter has got to have his eyes peeled."14
Durham Bulls
Manager Wild Bill Donovan and his Providence Grays of the International League were training in Durham, and Donovan agreed to umpire the game. With a crowd of 2,500 looking on, Scott kept the major-league club spellbound for eight innings until Phillies manager Red Dooin inserted himself as a pinch-hitter in the bottom of the ninth, trailing 4-3. With one on and two out, he rapped a double to tie the score. Catcher Mickey LaLonge stepped up and slapped another double, driving in his skipper with the winning run.15
Two weeks later, Scott was in the hospital for an unexplained reason. His condition was described as serious enough that he had been "off his diet for several days" and he had a new sobriquet: "Lonesome."16
With no reference to his illness, Scott was back pitching for Ridgeway once again. By season's end, he was back with Durham. According to the Durham Herald Leader at season's end, "Pitcher 'Lonesome' Scott leaves this morning for his home in Ridgeway, N.C. This big fellow has not done a great deal of work during the season, but the manager believes that he has the stuff and has been letting him season a while, and absorb some of the tactics of the professionals from the bench."17
Scott would return to Durham, but not right away. In 1914 he signed with Roanoke Mills in the semipro Roanoke Valley League as a pitcher and outfielder. In his first appearance, against a team from Rosemary, he struck out 16 in the first seven innings, holding the opposing team to two hits. When the game went into extra innings, Scott continued to pitch until his team scored a run in the 12th to win. Scott struck out 21 and issued no walks.18
On July 30, 1914, Scott tossed a three-hitter against Roanoke Rapids (with all the hits coming in the first three innings) and struck out 16. He batted cleanup and scored twice.19 Roanoke Mills won, but no season for Scott can be found.20
Scott signed with Durham again in August,21 put up mediocre numbers, soon was sold to last-place Greensboro. His sporadic performance continued. On September 8 he lasted 1⅓ innings against Winston-Salem, allowing seven hits and seven runs.22 In March of 1915, he was released by Greensboro.23
Scott appears to have spent the 1915 season with Roanoke Rapids, a semipro team in the Tri-Town League that included two other teams, Franklin and Emporia. He pitched and hit well as his team won the league championship."24
Signed by Pittsburgh
Scott began the 1916 season with Portsmouth (Class-C Virginia League), where he was described as "a big 200-pounder, with wonderful speed."25 In five games he was 3-0 before moving to Macon (Class-C South Atlantic League). There he produced an 8-12 record before being purchased by Pittsburgh and reporting to the club on August 25. Called on to pinch-hit in his first two appearances, both at Forbes Field, he walked on September 6 and struck out three days later.
In his major-league pitching debut, on September 19, Scott relieved Elmer Jacobs in the fourth inning against the Giants at the Polo Grounds. Pitching the rest of the way in the Giants' 9-2 triumph, Scott gave up six runs, including a two-run homer by Benny Kauff.
Earlier, on the 11th, Scott started in an exhibition game in Binghamton, New York. Fighting a bad cold, he gave up seven hits in six innings. The Pirates lost 6-5 and Pittsburgh-Post Gazette sportswriter Charles J. Doyle gave Scott a less than glowing tribute:
"Scott had a dandy curve ball working, but he put it too close to the batter's groves [sic]. He held the Binghamton boys to seven hits, but many of these safe swats came at critical times."26
Manager Jimmy Callahan sent Scott home about 10 days before the season ended. The Pittsburgh Press wrote, "Pitcher Jack Scott, who has done the pitching in batting practice for a couple of weeks, and practically ever since the club went on the road, went home last night. He will winter at Ridgeway, N.C. Jack is big and husky, has a lot of stuff and is a good prospect. … He has provided a lot of fun for the other players. He is witty and is a big favorite. All the players say he is sure to make good."27
Macon then Nashville
A few days later, the Pirates released Scott to Macon of the Class-C South Atlantic League).28 He started the 1917 season with two wins, two losses, and a tie before the club folded. Scott quickly signed with Nashville of the Class-A Southern Association.29
Before making his debut, on May 25, Scott paid a visit to the Macon city clerk and filled out his draft registration card. On May 29 he pitched his first game for the Vols, losing to the New Orleans Pelicans, 2-1.
Scott continued to show great promise; by late July he had given up only 27 earned runs in 124 innings in earning nine wins against six losses. His victories included a one-hitter against Mobile and a two-hitter against the Pelicans.
Nashville sportswriter Blinkey Horn was effusive, if somewhat obscure, in describing Scott's progress with the Vols: "Unfurling his fallaway forking backed up with an unusual amount of diamond courage, Sally [yet another nickname] Scott got down to box business without regard for his critics until now he has soared to a commanding heighth. No slabber ever broke in against greater handicaps than Scott."30
On August 14, the day Scott defeated Mobile to improve his record to 12-9, his draft board in Ridgeway called him home for examination and possible induction into the armed forces. The next day, the Boston Braves wired Nashville President Clyde Shropshire saying they would purchase Scott if he avoided military service. The only other requirement was that Scott "display major league slabbing ability."31 Scott did not receive military orders, and joined the Braves on August 16. In three starts and seven appearances for the Braves, he was 1-2.
Scott had to sit out the 1918 season after his arm was burned in a gasoline explosion while he was cranking his car.32 Back with the Braves in 1919, he finished with a 6-6 record.
Lost 21 Games
In 1920 Scott won 10 games but lost 21, in the first of his two major-league seasons with that many defeats. His final loss came at the hands of the Phillies on October 2 in Boston, a 4-2 loss in 11 innings. Scott gave up only eight hits but the Braves made four errors behind him.
Scott led National League pitchers with 47 appearances in 1921. His record improved to 15-13, but he hurt his arm again. His sensational 1922 World Series pitching performance could not have been predicted.
Off to Cincinnati and Suspension
In February 1922 the Braves sent Scott to Cincinnati for aging pitcher Rube Marquard and infielder Larry Kopf. In May the Reds released Scott, the Giants signed him, and his World Series heroics soon followed.
Scott was suspended in May of 1923 for skipping a trip to Boston. Though he had a strong season (16-7, 3.89 ERA), in January of 1924 he was placed on waivers and offered to Louisville, which declined.33 Eventually he was traded to Toledo along with catcher Alex Gaston for pitcher Joe Bradshaw,34 although the Giants recalled Scott on September 17 to report once the American Association season ended.35 For the Mud Hens he was 20-20, albeit with a good 3.25 ERA.
At age 33 Scott returned to lead the Giants with a 3.15 ERA in 1925. His won-lost record was 14-15. In 1926 he led the National League in appearances with 50, but after a 13-15 record he was traded on January 9, 1927, to the Phillies in a three-team transaction also involving the Brooklyn Robins, who sent pitcher Burleigh Grimes the Giants.
21-Game Loser Again
The Phillies depended on Scott to anchor their staff. On June 19, 1927, he pitched complete games in both ends of a doubleheader at Cincinnati's Redlands Field.36 He won the first game, 3-1, but lost the nightcap, 3-0. He walked only one batter in 17 innings. His final loss of the year came on September 27 at the Baker Bowl when the Giants slugged him for six hits and three runs in 1⅓ innings. He led the league in appearances with 48, and finished 9-21.
On December 14, 1927, the Phillies sold Scott to Toledo, his second ride with the Mud Hens. He fashioned a respectable 13-9 record in 1928 before John McGraw took another chance with him. The Brooklyn Daily Eagle lauded the acquisition: "Jack is a hunk of a citizen and he ought to be able to stand lots of double duty."37 He pitched in 16 games (three starts) and had a 4-1 record and 3.58 ERA as the Giants finished second to the St. Louis Cardinals. Back with the Giants again in 1929, he was 7-6.
Relegated to the second team through 1930 spring training,38 the 39-year-old Scott pitched sparingly, and when the season began, he was on the Toledo roster for the third and last time. He pitched in only 13 games and was 5-3. His last season as a professional was 1931, when he split time between Toledo and Wilkes-Barre (Class-B New York-Pennsylvania League).
Free Game
Released by the Mud Hens, Scott went to Wilkes-Barre on July 25 and asked Barons manager Mike McNally for a job, offering to pitch a "free game." "If I suit you, sign me up," Scott said. "If I don't, you won't have to pay me."39 Scott won a job, and posted a 6-3 record for the Barons in his final season in Organized Baseball.
A left-handed hitter, Scott had a respectable .275 batting average in 12 seasons in the majors. He won 103 games and lost 109, with a 3.85 ERA in 1,814⅔ innings pitched. Twenty-game losses were offset by great memories for the hard-luck pitcher.
Became Police Chief after Baseball
Scott returned to his family's tobacco and fruit farm in North Carolina, and served as Warren's police chief for 30 years.40 When he died on November 30, 1959, in Duke University Hospital at the age of 67, he was undergoing emergency stomach surgery and suffered a massive hemorrhage.41 He is buried in Fairview Cemetery in Warrenton.
For some, Scott's legacy is having lost 20 games twice in the majors and once in the minor leagues. But Jack would recall his special moment in baseball annals when he won a World Series game over the Yankees and future Hall of Famer Waite Hoyt.
"That was my greatest game," Scott recalled years later. "I had an easy time with Babe Ruth. I fed him an assortment of slowballs, fastballs and curves. The only time he reached base against me was when he got his foot in the way of a slowball and [he] was waved to first as a hit batsman."42
The highs that come with strikeouts, shutouts, and World Series victories countered Scott's homesickness, personal loss, arm trouble, and 20-loss seasons. But he knew his place in baseball history.
Sources
In addition to the sources cited in the Notes, the author consulted ancestry.com, baseball-reference.com, newspapers.com, and findagrave.com.
Notes
1 "1922 Yankees Go Home," thisgreatgame.com/1922-baseball-history.html, retrieved February 18, 2017.
2 Robert F. Kelly, "Quit Is Not Jack Scott's Middle Name," Association Men, April 1923: 362.
3 "Scott, in Great Comeback, Brings Warren Fame," Warren Record (Warren County, North Carolina), October 13, 1922: 3.
4 "Scott's Father Saw Him Stage Comeback in World's Series," Binghamton (New York) Press and Sun-Bulletin, October 10, 1922: 19.
5 Chicago Tribune, October 10, 1922: 22.
6 "Scott," Warren Record.
7 "Rather Hunt Duck Than Tour the World, Pitcher Scott Says," Warren Record, November 10, 1922: 1.
8 David Skelton, "20-Game Losers," Baseball Research Journal, Volume 42, Issue 1 (2013): 111.
9 "Scott," Warren Record.
10 "Base Ball Items," Warren Record, July 21, 1911: 7.
11 "Base Ball Season Ends," Warren Record, September 15, 1911: 7.
12 "Scott," Warren Record.
13 "Ten Players Have Reported," Durham (North Carolina) Morning Herald, March 18, 1913: 3.
14 "The Durham Bulls to Play Philadelphia," Durham Morning Herald, March 23, 1913: 7.
15 "Pair of Doubles Saved Phils' Scalp," Philadelphia Inquirer, March 25, 1913: 13.
16 "Local Happenings," Durham Morning Herald, April 15, 1913: 3.
17 "Honoring the Bulls," Durham Morning Herald, September 4, 1913: 1.
18 "Roanoke Valley League Games," Roanoke Rapids (North Carolina) Herald, July 17, 1914: 1.
19 "Roanoke Valley League Games," Roanoke Rapids Herald, July 31, 1914: 1.
20 "Exit Roanoke Valley League," Roanoke Rapids Herald, September 11, 1914: 4.
21 "Grounds Too Wet for the Ballgame," Durham Morning Herald, August 5, 1914: 2.
22 "Twins Take the One That Put Victory on the Ice," Twin City Daily Sentinel (Winston, North Carolina), September 9, 1914: 6.
23 "Farrell's Decisions," Atlanta Constitution, March 14, 1915: 5B.
24 "Roanoke Rapids Wins Pennant," Roanoke Rapids Herald, August 27, 1915: 1.
25 A.H. Trent, "The Virginia League," Sporting Life, April 27, 1916: 22.
26 Charles H. Doyle, "Pirates Drop Loose Contest to Binghamton," Pittsburgh Post-Gazette, September 12, 1916: 8.
27 "Pitcher Scott Is Sent To His Home," Pittsburgh Press, September 21, 1916: 32.
28 "Pitcher Jack Scott Released by Pirates," Pittsburgh Press, September 28, 1916: 28.
29 "Blinkey" Horn, " 'Sally' Scott, Pitcher From Macon Club, Signed by Vols," Nashville Tennessean, May 26, 1917: 10.
30 Horn, "Do Figures Lie? Lay Before You Record of Scott and Meador," Nashville Tennessean, July 28, 1917: 8.
31 Horn, "Braves Agree to Price on Scott if He Avoids Draft," Nashville Tennessean, August 16, 1917: 8.
32 Kelly, 361.
33 "Pitcher Scott Is Waived Out of Majors by Giants," Rochester Democrat and Chronicle, January 10, 1924: 28.
34 "Bradshaw Sold to Giants," Portsmouth (Ohio) Daily Times, January 18, 1924: 23.
35 "Giants Recall Scott," Brooklyn Daily Eagle, September 17, 1924: 24.
36 "This Day in All Teams History June 19," nationalpastime.com/site/index.php?action=baseball_team_search&baseball_team=All+Teams&fact_Month=06&fact_Day=19, retrieved February 1, 2017.
37 "New York Clubs Still Keep Their Pitching Faith," Brooklyn Daily Eagle, August 22, 1928: 26.
38 "McGraw Uses Mailed Fist on Roush, Brooklyn Daily Eagle, March 26, 1930: 22.
39 Ed Kelly, "Kel-e-Graphs," Scranton Republican, July 28, 1931: 15.
40 Paul Batesel, Major League Baseball Players of 1916: A Biographical Dictionary (Jefferson, North Carolina: McFarland, 2007), 133.
41 "Former Major Leaguer Dies," Burlington (North Carolina) Daily Times-News, December 1, 1959: 16.
42 "Necrology," The Sporting News, December 9, 1959: 24.
© 2017 by Skip Nipper. All Rights Reserved by Skip Nipper