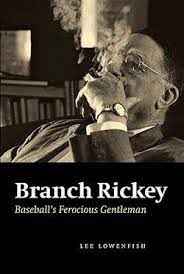 Dale Hiter recently wrote to me with a question about recommendations for baseball books. His question was this: "Hey Skip, I have a friend trying to learn more about baseball. He is particularly interested in MLB in the 20s, 30s, and 40s. What can you recommend in print or video other than the Ken Burns documentary?
There is a myriad of videos high in the ether, and a Google or YouTube search with "Baseball" as the subject will bring them to the surface. I am no expert on book reviews, but I know what I have enjoyed, and I compiled a list from my own bookshelves and only of books I have read.
I want to point out authors who have written books which I deem necessary to understand the foundations of baseball. John Thorn, Lawrence S. Ritter and Mark Ribowsky provide that, and I encourage theirs to be read first. Here, in no particular order, are my favorites:
Branch Rickey: Baseball's Ferocious Gentleman by Lee Lowenfish (University of Nebraska Press, 2007)
Baseball in the Garden of Eden: The Secret History of the Early Game by John Thorn (Simon & Schuster, 2012)
The Glory of Their Times: The Story of the Early Days of Baseball Told by the Men Who Played It by Lawrence S. Ritter (Macmillan, 1966)
Boys of Summer by Roger Kahn (Harper & Row, 1972)
A Complete History of the Negro Leagues: 1884 to 1955 by Mark Ribowsky (Carol Publishing Group, 1995)
Joe DiMaggio: The Hero's Life by Richard Ben Cramer (Simon & Schuster, 2000)
Willie's Boys: The 1948 Birmingham Black Barons, The Last Negro League World Series, and the Making of a Baseball Legend by John Klima (Wiley, 2009)
The Echoing Green: The Untold Story of Bobby Thomson, Ralph Branca and the Shot Heard Round the World by Joshua Prager (Vintage Books, 2006)
October 1964 by David Halberstam (Ballantine, 1994)
Ball Four by Jim Bouton (World, 1970)
I have purposely omitted Money Ball by Michael Lewis (W. W. Norton & Co., 2003), as that chapter of baseball history is ongoing; however, it is worth reading to learn the basis for statistical tools that have often overshadowed the game itself.
These may be read in whatever order you wish. Baseball is the worthy subject no matter the order!
© 2021 by Skip Nipper. All Rights Reserved.