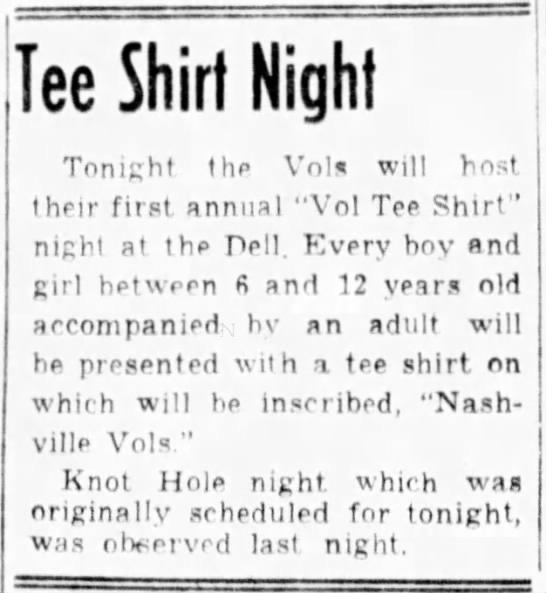 July 22, 1954 Doubleheader against Atlanta
To promote attendance for a doubleheader, Nashville Vols management schedules "Tee Shirt Night" at Sulphur Dell. Each youngster 6 to 12 who purchased an admission ticket received a Vols t-shirt. The promotion attracted 2,620 for the two games after only 372 paid admissions showed up for the previous night's game.​
Crackers Win First Game
Atlanta won the first game, 16-3, as Dick Donovan scatters seven Nashville hits. in the scheduled seven-inning affiar. The Crackers have nineteen hits led by four Atlanta batters with three hits apiece: Paul Rambone, Chuck Tanner, Bob Montag, and Pete Whisenant. Donovan helped his own cause with a triple, and Montag had a home run.
RIghthander Bill "Speck" Padget took the loss for the Vols after giving up four runs in the first inning on five singles and a double.
Vols Earn Split in the Nightcap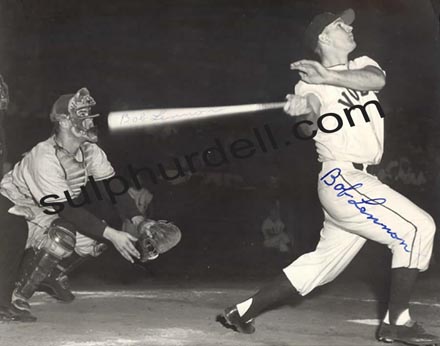 Nashville won the second game, 8-6, as Bob Lennon cranked out home runs number 44 and 45. By driving in four runs, Lennon increases his RBI total to 115 on the season. He is now seven home runs away from tying the Southern Association record for round-trippers, set by Nashville's Charlie Workman's 52 in 1948, and eight homers away from setting a new record.
The game went the full nine innings as scheduled. Vols' second baseman, twenty-two-year-old Lee Tate, after flying out in the first inning of the second game, had four consecutive singles to lead Nashville.
Straw Hat Trouble
After Lennon's home run in the sixth inning, a Nashville fan sailed his straw hat onto the field and it landed near Crackers' third baseman, Paul Rambone. He calmly placed the hat at his feet and stomped it. When another straw hat floated down, he repeated his deed.
Rambone was roundly booed when he appeared at the plate in the eighth inning, and Lennon was roundly cheered when he hauled in Rambone's long drive at the centerfield fence.
In an unusual twist, both games took an identical amount of time, two hours and seven minutes. At the end of the night, Nashville sat at the bottom of Southern Association standings with a 40-60 record, tied with Mobile 20 1/2 games behind first-place New Orleans.
Sources
Baseball-reference.com
Nashville Banner
Nashville Tennessean
Newspapers.com
© 2021 by Skip Nipper. All Rights Reserved.