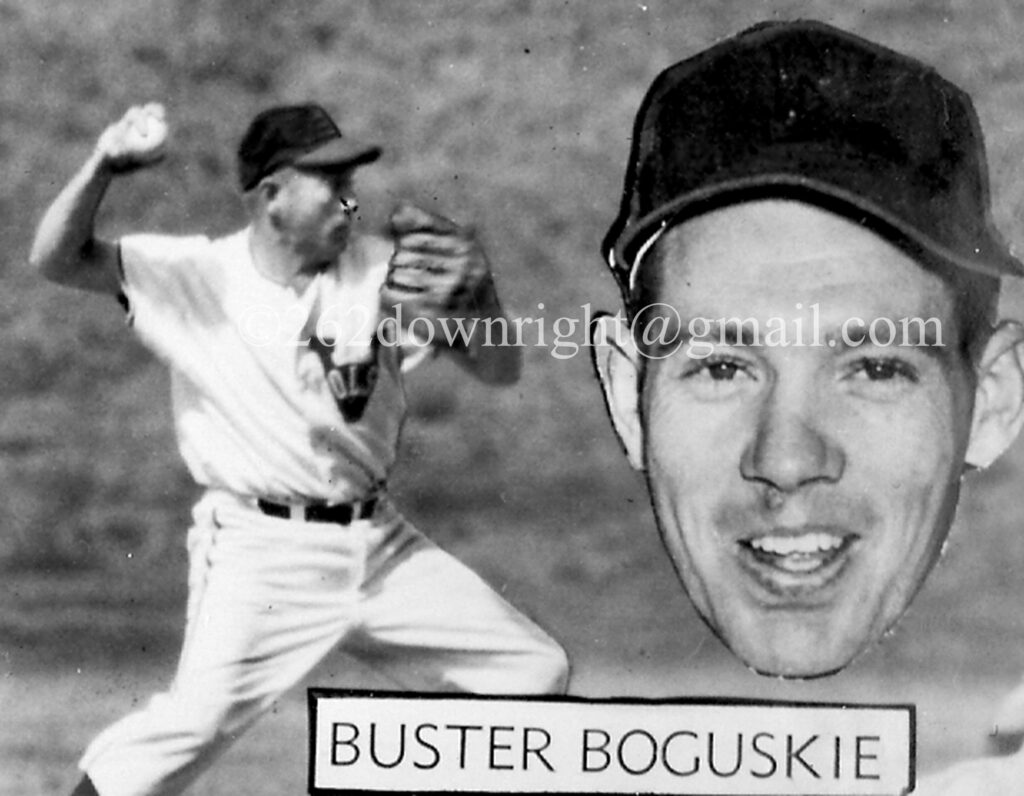 Was Four-for-Five for Game
Nashville's Buster Boguskie, a 24-year-old, 5'8", 168-pounder, narrowly missed having a three-homer night on July 23, 1948, as his extra-inning drive in the eighth bounced off the rightfield foul pole for a single in a 6-5 loss to Mobile. The second baseman had four hits in five plate appearances, driving in three runs in the scheduled seven-inning first game of a doubleheader.
His two home runs came in the first and third innings and he added a single in the fourth to drive in a run. He was 0-for-5 in the second game, a 6-4 Nashville win. There were 6,500 fans in attendance in the games played at Sulphur Dell.
Sportswriter George Leonard Explains the Near-Homer
Nashville Banner sportswriter George Leonard described in detail how Boguskie's first-game swat missed being a homer. Mobile reliever Russell Oppliger tossed up the pitch he almost hit for a home run.
"By a matter of inches, Buster Boguskie missed pounding three home runs. His screen-clearing drive in the eighth with two away struck near the top of the rightfield foul line pole above the screen, rebounding for a single. Previously, he had homered in successive times at-bat in the first and third innings off John Hall."[1]
Mobile's Starting Pitcher a Little Grumpy
Hall was not in the best of moods when Banner sports reporter Bill Ezell walked into the visiting team's clubhouse when the game was over. Bears' manager Al Todd offered no objection to him approaching Hall who was grumpy from the second game loss to Nashville, 6-5.
"What do you want?" Hall asked
"I wanted to speak to you," Ezell said. "I want to ask what kind of a pitch that was you threw to Boguskie the first time."
"Fastball," Hall snorted.
"And the second one?"
"Home run ball."
Boguskie Sees it Differently
Boguskie described the pitch for homer number two in a different way.
"Boguskie pickled a curve for his second homer in the third. That information came from Buster himself," Leonard wrote.
The diminutive Boguskie had endeared himself to Nashville baseball fans a few months before on opening day on April 16 against Chattanooga at Sulphur Dell, when he garnered six consecutive hits, and barely missed a seventh.
"A Great Kid"
In his daily column the day after the Mobile doubleheader, Banner sports editor Fred Russell hailed the accomplishments of Boguskie, and how he had become an integral spoke in the Nashville club's wheel.
"Nothing sets off the Vol bench like an extraordinary feat by Little Bo. His successive homers last night had his mates all but carrying him piggy-back.
"He's a true players' favorite, a fuzzy puppy. I hear it was the same way with the men of Patton's Third Army, where Little Bo served long and well.
"Which is easy to understand. He's just a great kid."[2]
Sources
Baseball-reference.com
Nashville Banner
Nashville Tennessean
Newspapers.com
Notes
[1] George Leonard, "Stretch Edge Over Chicks to Two Games by Dividing," Nashville Banner, July 24, 1948, 6.
[2] Fred Russell, "Sidelines" column, Nashville Banner July 24, 1948, 6.
© 2021 by Skip Nipper. All Rights Reserved.