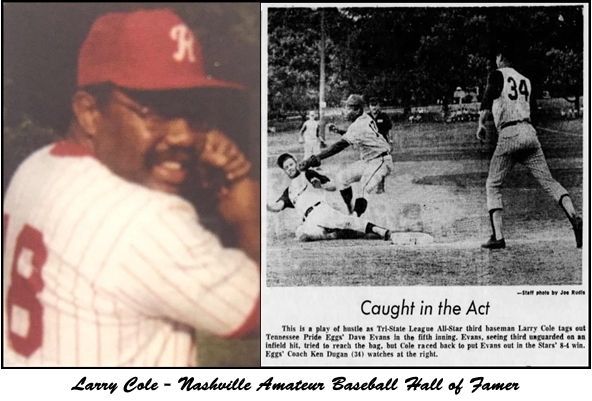 Attended Tennessee State
Larry Cole was born on August 30, 1945, in Springfield, Tennessee. He enrolled as a student at Tennessee State University after graduating from Springfield's Bransford High School in 1963. At TSU, Larry was an active member of the TSU baseball team from 1964-1967 as a third baseman. During that time he led the team in hitting in 1966 and served as the team Captain in 1967. Larry graduated from Tennessee State University in 1968 with a Bachelor's degree in Health and Recreation.
He was a member of two Capital City League teams, Tennessee Pride Sausage and Pabst Jets, winning two championships, and was second in batting in the Tri-State League twice. Additionally, Larry was selected as a member of the All-Star team.
Baseball Assistant
He served as TSU's assistant baseball coach from 1977-1983. During that time, 18 of the TSU baseball recruits were drafted and signed to Major League baseball contracts. In 1988, Larry was honored for his contributions to baseball as a player by being inducted into the Tennessee State University Athletic Hall of Fame.
He is active in his church and has served as chair of the Deacon Board at Progressive Baptist. He has also been active within the Nashville community and has coached youth summer baseball leagues in a variety of age groups for more than 20 years. In addition, he often provided one-on-one baseball coaching in support of helping players improve their techniques.
He gives credit to his father, Eulas Cole, Louis Jamison, Allen Robinson, and Tennessee State coach Sam Whitmon as positive influences in his life. Larry is retired from Metro Health Department. His family includes his wife, Toney, their daughter, Kimya, and son, Kahil, and daughter-in-law Nicole.
Old Timers
Larry was inducted into the Old Timers Nashville Amateur Baseball Hall of Fame on January 28, 2011, during the organization's 72nd annual banquet. The criteria for the Hall of Fame selection is based upon ability, longevity, integrity, sportsmanship, character, and contribution to their team and the game of baseball during their playing days. Ability is the paramount consideration.
He has this to say about Old Timers: "God's great men coming together to make a difference; we give so much. To me, it's a breath of fresh air to be an Old Timer. The objective is to help, no matter who or where to make sure this great game continues. We are a brotherhood."
Larry is often asked to begin Old Timers board meetings with prayer. His eloquence is memorable, and all will agree he is a well-loved member of Nashville Old Timers.
Note: This biography was first posted at www.otbaseball.com. The organization will be holding its 24th annual golf tournament on September 16, 2021. Recent health issues will keep Larry from participating in the event he has lovingly volunteered to handle for many years, the putting contest.
© 2021 by Skip Nipper. All Rights Reserved.