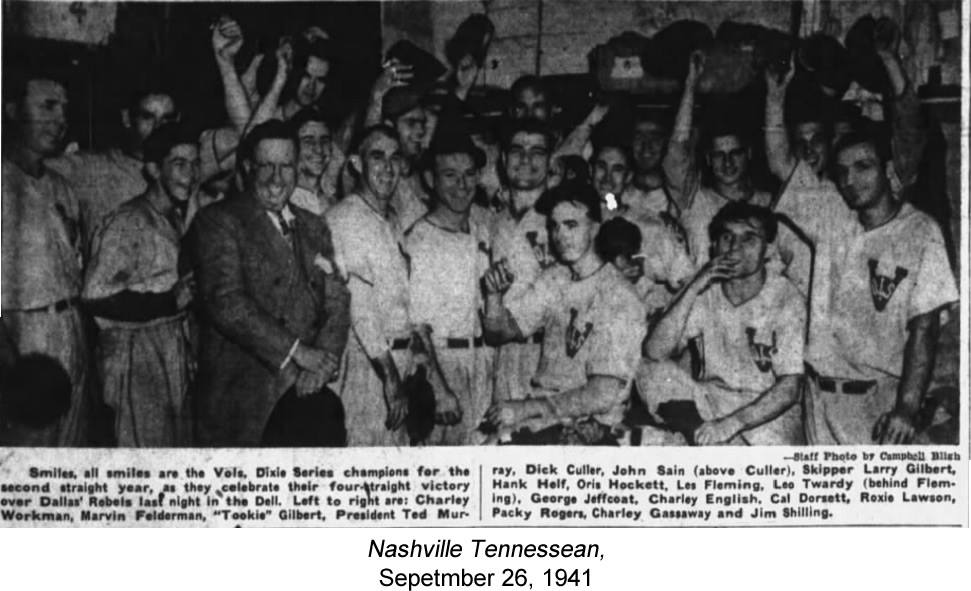 On September 25, 1941, 80 years ago today, Nashville won Game 4 of the Dixie Series against the Dallas Rebels at Sulphur Dell, claiming the season-ending playoffs for the second season in a row. It is the first Southern Association team to accomplish the feat.
The Vols won all four games by scores of 6-1 and 6-1 in Dallas, and 8-6 and 6-2 in Nashville, the third club in the 21 years of the series to win in a four-game sweep.
The Vols' pitching staff had three complete games, and only one Nashville reliever was used the entire series.
In 1940, the Vols took the championship four games to none over Houston in five games, closing out the Buffaloes with three consecutive wins, giving Nashville seven consecutive wins in the Dixie Series, the first club to do so.

It is Vols manager Larry Gilbert's eighth Dixie Series, and fourth overall championship. His New Orleans Pelicans won it all in 1934 and 1935, and now Nashville in 1940 and 1941.
Playoff receipts for Nashville are approximately $400, while Dallas players earned $280 each.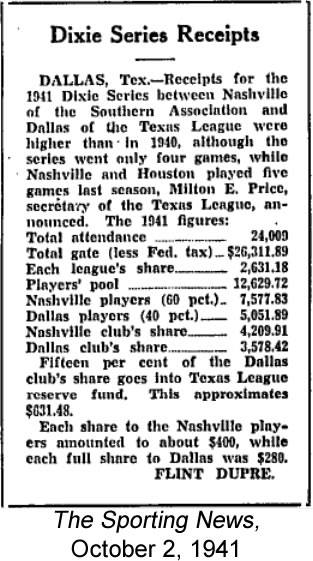 Sources
Nashville Banner
Nashville Tennessean
Newspapers.com
The Sporting News
© 2021 by Skip Nipper. All Rights Reserved.