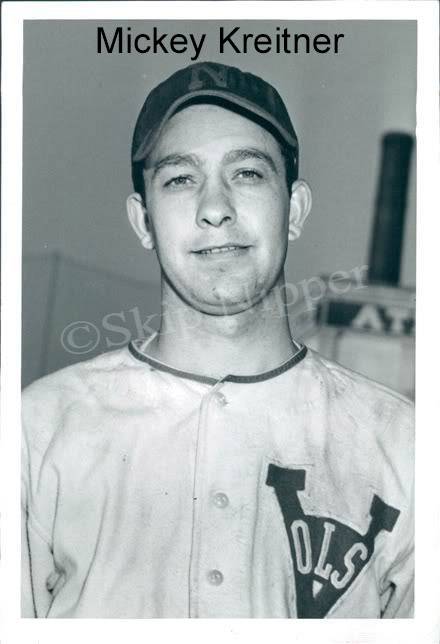 From Batboy to Entrepreneur
Albert J. "Mickey" Kreitner was a well-known restaurateur in Nashville's entertainment circles as the owner of several nightclubs and eating establishments in Printer's Alley. The Embers was his first, opened on September 14, 1959, and he went on to own 39 different establishments including The Captain's Table. But he experienced many "opening days" on the baseball diamond with two seasons as a catcher on the local Nashville Vols squad, and two stints with the Chicago Cubs bookended by his first pro season in 1941 at Americus, Georgia, and a final year for the Los Angeles Angels in 1945.
He endeared himself to Nashville baseball fans at an early age. As a 12-year-old batboy for his hometown's professional team, his task was to line up wayward bats for the visiting clubs at Sulphur Dell. He was paid one baseball for each game, which he could sell for as much as 75-cents. Scuffed balls would bring only a quarter, and although there was not much of a market for them, he would receive broken bats from players.
A Nashville Banner sports page entry chronicled his baseball exploits in 1935: "Quite naturally, Mickey wants to play in the big leagues. He's a catcher (in fact that's why people call him Mickey, after Mickey Cochrane (Athletics and Tigers catcher and future Hall of Famer) and if you've been in the park enough you've seen him behind the plate in batting practice sometimes, wearing all the trappings from shinguards to mask and looking every inch a real receiver."[1]
Catching Guru Clyde McCullough
His mentor was a friend who had made it to the majors as a catcher, Clyde McCullough, and together they honed their own skills when both were late in signing contracts to begin the 1942 season. Along with the Vols manager, Kreitner gave McCullough much credit for his own ability as a catcher.
"McCullough gave me some valuable tips last spring and Skipper (Gilbert) never stopped correcting my faults and helping me improve as a catcher and batter."
When Kreitner finally signed his contract, he joined the Vols in spring training in Macon, Georgia, as an understudy to backstop Hank Helf. The 6'3", 210-pound Nashville boy still played in 40 games, but his career was nearly sidetracked one hot summer evening at Sulphur Dell.
Zealous Pepper-pot
His zealous desire to make it to the big leagues nearly cost him his dream on July 22, 1942 against New Orleans. With two outs in the ninth inning and the score tied, Kreitner took a perfect throw from first baseman Jim Shilling and would have had Pelicans pitcher George Dockins out by a country mile, only to unexpectedly run towards Dockins, who promptly ran over the 19-year-old catcher.
They crashed head-on, the 175-pound Dockins flattening Kreitner, and as the ball rolled out of his glove two runs scored. New Orleans went on to win, 4-2. It was an unnecessary act, according to sportswriter Fred Russell.
"Kreitner bubbles over. He's a pepper-pot. He tries too hard. Last night's misplay was costly and embarrassing, but in the long run it will prove highly valuable to Mickey and to any other youngsters seeing the game who have hopes of playing professional baseball."[2]
The next day he defended his reason for the play.
"Mickey Kreitner explains the collision with George Dockins at home plate Wednesday night by saying that he charged down the line thinking Dockins was going to stop and try to run back to third."[3]
He spent a few days in Protestant Hospital with a concussion and wondered whether it would have a bearing on being able to play again. In December he announced he was joining the Army, but the incident that put him in the hospital was the reason he received a medical discharge in 1943, and he returned to playing baseball.
Sold to Chicago Cubs
He was having a decent season with a .248 batting average when Kreitner was sold to the Chicago Cubs on September 23, 1943. Sportswriter Raymond Johnson claimed it was welcome news to Nashville fans, not because they were rid of him, but because the local boy had found success at the ballpark.
"A year ago Mickey was carried on the Vol roster because of necessity. Seldom did he get into a game. He was inducted into the armed forces early last fall but was discharged because of an injury he received on the diamond. He returned to the Vols last spring and, under Larry Gilbert's guidance, he developed rapidly. He caught practically every game and by the middle of the season he had attracted the eye of a number of ivory hunters."[4]
Kreitner was in Chicago at the time the sale was announced, visiting his pal Clyde McCullough, the regular catcher for the Cubs. Appearing in three games to finish the season, he returned to back up McCullough for 39 games in 1944, retiring from professional baseball after his final stop in Los Angeles.
Died in 2003
Born on October 9, 1922, Kreitner attended Hume-Fogg Tech in Nashville. He passed away on March 6, 2003, at the age of 81 from complications from open-heart surgery and was buried in Spring Hill Cemetery.
References
[1] "In Which a Couple of Kids Break Into the Sports News, Nashville Banner, August 11, 1935, 12.
[2] Fred Russell, "A Painful Illustration," Sideline Sidelights column, Nashville Banner, July 23, 1942, 16.
[3] Russell, "Control Does It," Sideline Sidelights column, Nashville Banner, July 24, 1942, 20.
[4] Raymond Johnson, "Good News," One Man's Opinion Column, Nashville Tennessean, September 24, 1943, 24.
Sources
Baseball-reference.com
Nashville Banner
Nashville Tennessean
Newspapers.com
Note: The author also referred to Kreitner's Nashville Tennessean obituary published on March 10, 2003.
© 2021 by Skip Nipper. All Rights Reserved.