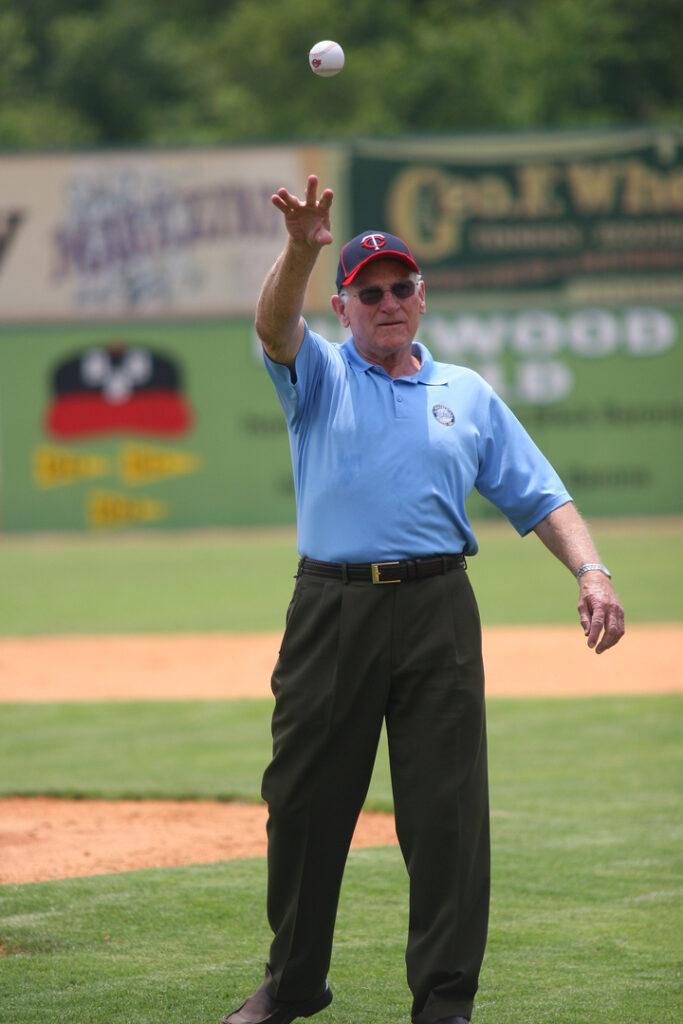 Our father, Virgil Nipper, was inducted into the Nashville Amateur Baseball Hall of Fame in 2008 at the 69th annual Old Timers banquet at the Millennium Maxwell House Hotel. It was a prestigious honor for dad, one that includes local greats W. A. Wright, Larry Cole, Joe Casey, and Bobby Reasonover, among many others.
Dad has always been friendly and usually jovial, but humbled by his award. His personality always shines when talk turns to sports and baseball, and that night was one of the best. He had a way of reeling in others with his stories, but mostly from his honesty and humility.
2009 Old Timers Banquet Speaker
The following year as president of Old Timers, I was able to greet our 2009 banquet speaker, Harmon Killebrew, at the airport. He and his wife Nita were congenial folks, very cordial, and they were looking forward to an extended visit with relatives in the area along with being available to our board members and guests at the banquet.
A prolific slugger who spent 22 years in the majors, Killebrew was inducted into the National Baseball Hall of Fame in 1984. At the time of his retirement, he was second only to Babe Ruth in American League home runs. I was humbled by his on-field accomplishments, but his graciousness soon put my awe to rest.
I explained the format of our banquet. He was a stirring guest, free with his stories, and he held the audience spellbound. To everyone's surprise, he remained afterwards and signed just about anything anyone brought to him. While our banquets usually ended around 9:30 PM, he stayed for over an hour more.
Breakfast the Next Morning
Before he made his way to his room, I asked if he would mind meeting our board of directors at breakfast the following morning. He agreed.
I took the opportunity to seat him at the head of a table of around 14 with dad to his right, and they talked and talked. Dad was in his element, and afterwards told me it what a great opportunity for him.
At Birmingham's Rickwood Field
Almost a year and a half later, I made my annual pilgrimage to the Rickwood Classic, a Birmingham Barons 'turn-back-the-clock' game played once a year at Rickwood Field. Harmon Killebrew was the featured guest, and would throw out the first pitch at the game on June 2. I was invited to attended an informal gathering at the Barons home park, Hoover Metropolitan Park, the night before.
"Killer" Remembers Dad
As a guest of the Friends of Rickwood, I arrived at the press box and watched others greet the affable Killebrew. Once everyone had said hello, I ambled up to him and reached out my hand.
"Harmon, I don't know if you remember me or not. I'm Skip Nipper; we were proud to have you at our Old Timers banquet last year."
"Of course, I do. How's your dad?"
I was literally stunned that a Hall of Famer, no matter how humble, no matter how famous, no matter how time had separated our banquet and breakfast in Nashville, would ask about dad.
But then, I knew another Hall of Famer who would have said and done the same thing. With those few words, he endeared himself to me forever. And once I told dad, his smile was one for the Hall of Fame.
Harmon passed away soon after appearing in Birmingham, and dad passed away in 2016. I think of them often.
Rest in peace, dad. And say hello to Harmon for me.
© 2022 by Skip Nipper. All Rights Reserved.