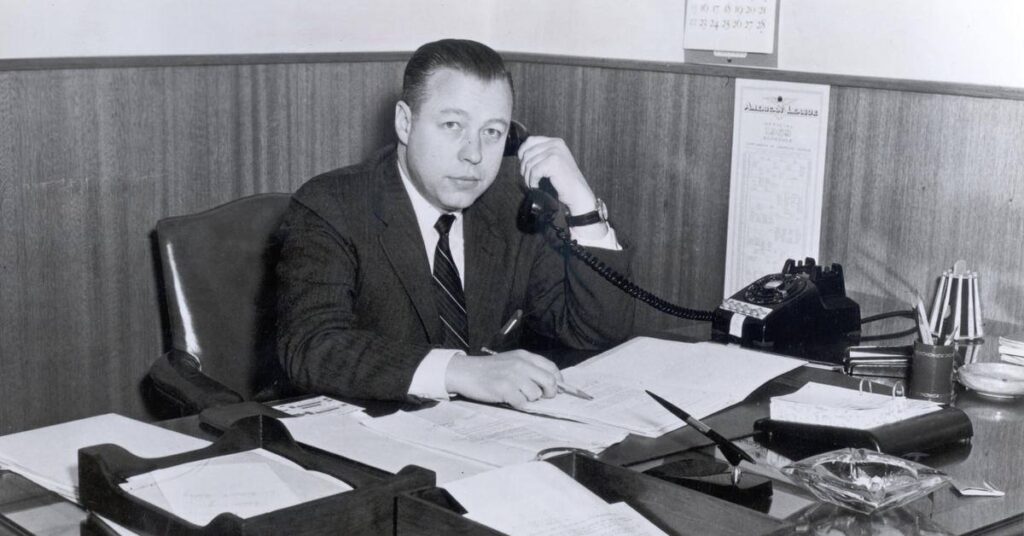 On January 1, 1974, Lee MacPhail took over as president of the American League after serving as general manager of the New York Yankees since 1966. In that capacity he was instrumental in bringing an end to the 1981 baseball strike and oversaw the addition of Toronto and Seattle as expansion teams.
MacPhail was born on October 25, 1917, in Nashville where his father, Larry S. MacPhail, ran Huddleston-Cooper Co., a men and boys store located downtown at Church Street and Fifth Avenue, and served as president of the Tennessee Retail Clothiers' Association.[1]
Began Career in Reading, Pennsylvania
He began his baseball career in 1941 as business manager for the Reading Brooks, the Brooklyn Dodgers' Class-B team in the Interstate League when his father was executive vice-president and general manager of the Dodgers. The younger MacPhail served as general manager for Toronto in the International League from 1942-43 before serving in the U. S. Navy during World War II.
After his discharge, he became general manager of the Yankees Triple-A farm team in Kansas City in 1946 and was elevated to director of player personnel for the Yankees from 1948-58. During that time New York won nine pennants and seven World Championships.
Commissioner's Office
He became president and general manager of the Baltimore Orioles from 1958 to 1965 before joining the baseball Commissioner's office in 1965. In 1966, he was honored as Major League Executive of the Year by The Sporting News.[2]
Before becoming American League President, he returned to the Yankees as executive vice president and general manager from 1974-83, and after leaving the American League office, served as president of the Major League Player Relations Committee from 1984-85.[3]
Election to Hall of Fame
Chosen to the Hall of Fame in 1998, he joined his father Larry who was selected in 1978, making them the only father-son inductees. Turkey Stearnes and Lee MacPhail are the only members of the Hall of Fame born in Nashville.
He passed away on November 8, 2012, at his home Delray Beach, Florida, at the age of 95. At the time of his passing, he was the oldest living Hall of Famer.
---
Sources
Nashville Tennessean
Newspapers.com
Paperofrecord.com
Sabr.org
Notes
[1] "MacPhail Heads Clothiers," Nashville Tennessean, March 1, 1917, 6.
[2] Oscar Kahan, "MacPhail, Bauer and Robinson Win Top Awards," The Sporting News, December 3, 1966, 33.
[3] "Lee MacPhail," National Baseball Hall of Fame website, https://baseballhall.org/hall-of-famers/macphail-lee, accessed January 1, 2022.
© 2022 by Skip Nipper. All Rights Reserved.