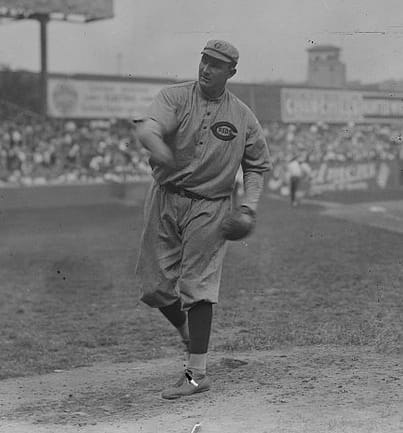 Fred Toney was born in Nashville on December 11, 1888. In his youth he developed a strong pitching arm by throwing rocks across the Cumberland River, and often challenged his boyhood friends to throw fist-sized rocks at tin cans and bottles mounted on sticks.
The 6'2″, 195-pound righthander signed a professional contract with Winchester in the Blue Grass League where he won 22 games in 1908. He threw a 17-inning no-hitter in 1909 and won 23 games in 1910 before being purchased by the Chicago Cubs.
He was one of the outstanding pitchers in the National League from 1915 to 1921, leading the league in saves in 1918 (with three), and won 20 games in 1917 and 1920.
On May 2, 1917, pitching for Cincinnati against Hippo Vaughn of the Chicago Cubs, both men threw nine hitless innings. The Reds scored on a couple of hits in the top of the tenth; after Gus Getz popped out to Chicago's catcher Art Wilson, Larry Kopf singled to right, Greasy Neale flied to center, Hal Chase reached on an error, sending Kopf to third, and everyone's All-American-Everything Jim Thorpe singled to score Kopf.
Chase was thrown out at home on the play to end the inning. Toney allowed no runs in the bottom of the inning for the win.
It is the only nine-inning double no-hitter in major league history.
In six minor league seasons his pitching record was 93-62, and in 12 major league seasons with the Cubs, Reds, New York Giants, and St. Louis Cardinals he was 139-102. His major league ERA was an impressive 2.69.
He was given his release by Branch Rickey, general manager of the Cardinals, on April 6, 1924. No teams signed Toney, so he sat out the season before joining his hometown Nashville Vols in 1925. He pitched in nine games, accumulating a 4-3 with a 4.09 ERA before walking away from the club when he felt like his teammates let him down with poor play in his final three games. He never pitched again.
Toney died of a heart attack on March 11,1953, in Nashville at the age of 64, and was buried in Spring Hill Cemetery.
Sources
baseball-reference.com
newspapers.com
retrosheet.org
In addition to the sources listed above, the author referred to Toney's biography by Mike Lynch, published by the Society for American Baseball Research (SABR) as part of their Biography Project (Fred Toney – Society for American Baseball Research (sabr.org).
© 2021 by Skip Nipper. All Rights Reserved.