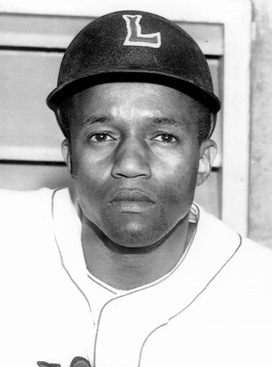 Passionate About Baseball
One of the most passionate baseball people I ever met was Clinton "Butch" McCord. We became friends after dad and I joined Nashville's Old Timers Baseball Association, an organization Butch loved. He was instrumental in securing National League president Bill White and Negro Leagues player Buck O'Neill as guest speakers at the organization's 2000 banquet.
I was invited to participate in a panel discussion at the Metro Archives in Green Hills, "Play Ball: A Look at Nashville Baseball". Others on the panel included former Negro Leaguers Jim Zapp, Sydney Bunch, and Butch. Butch and I seemed to hit it off at the Archives and our relationship grew at Old Timers board meetings and events.
I was invited to his home where I met his lovely wife, Christine, and on that first visit he told story after story, shared his books and newspaper clippings about the Negro Leagues, and told about what Jackie Robinson did for the African-American community. Subsequent visits to his home brought more stories, more books, and more clippings, and more Jackie Robinson.
Answers to Baseball Questionnaire
I am in possession of a questionnaire filled out by him. The questions, and Butch's answers:
1. Favorite team and year? Baltimore Elite Giants 1949, Denver Bears 1954 (Western League), Victoria Rosebuds 1959 (Texas League)
2. Your favorite city or stadium to play? Columbus Jets Stadium 1956
3. Who had the biggest influence on your career? Lou Gehrig and local persons in Nashville
4. Who were the greatest players in the Negro Leagues? There were too many: 1. Paige 2. Gibson 3. Leonard 4. Oscar Charleston 5. Mays
5. How would Reggie Jackson have compared to those players? He would have done well. He had the personality. He should have been a Yankee all of his career. He was a natural Yankee
6. Your most memorable moment in baseball? 1. Getting a triple off Satchel Paige at 16-years-old 2. Winning two Silver Gloves 3. Second year in organized ball they had a night for me (Harry Carey came to honor me) 4. I had too many to settle for one
God bless him, this was Butch at his best. He was proud of his race, proud of his accomplishments, proud that he had made it through the slings and arrows of integrated baseball.
To me, the most telling answer of this questionnaire is "local persons in Nashville". Since he has passed away we can't ask him who those persons were. I think they were his father, his wife Christine, Elite Giants owner Tom Wilson, and fellow Negro Leaguer Henry Kimbro.
Getting a triple off of Satchel Paige at the age of 16 is no easy feat, either. But the second most telling answer to me?
"I had too many to settle for one".
On returning from a trip I took to the Negro Leagues Baseball Museum in Kansas City he told me how proud he was that I took an interest in Negro League history. I told him it began with him.
Career Accomplishments
I was fortunate to know Butch while he was with us. I learned from him; not only about his career but about his life. He told great stories, and poured out his memories. He was especially proud of his accolades, including a football scholarship to Tennessee State University in 1944 and the team's Negro National championship in 1946, having TSU naming the baseball field in his honor, receiving a National Association of Black Journalists, American Baseball Coaches Association, and Nashville Urban League awards.
Behind the scenes, he was instrumental in pursuing pensions for Negro Leagues players from Major League Baseball.
I had no idea Butch played in the Negro Leagues, nor how good he was. He hit .368 in his last year with the Chicago American Giants. He began his baseball career in 1947 when he signed with his home town Nashville Cubs. The next season McCord was with the Baltimore Elite Giants, and spent 11 seasons in organized baseball.
From his first words to me about his admiration for Jackie Robinson and what he had done for "us," we bonded. We began to speak on the phone regularly.
Sounds Season Ticket Holder
Butch loved to talk about the past, but his love of baseball allowed him to continue his interest in his hometown Nashville club.
During the baseball season he would call me on Saturday mornings and we would continue our discussions. A Nashville Sounds season ticket holder, Butch would always mention something over the phone that had happened at a Sounds' game during the week. If the Sounds had played an away game on Friday night, the first thing he would say when I answered my phone was, "Did you listen to the game last night?"
Saying I had, we would discuss the game; if I hadn't we would still discuss the game, as Butch wanted to tell about it and use it as a lesson about baseball. That's the kind of fan he was.
Listening to baseball broadcasts was something my dad, my brother Jim and I shared over the years. Television had pushed me away from that, but Butch helped bring me back to it.
Baseball Teacher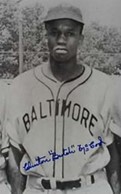 Often he would turn to a teaching moment: "When I played…"He loved to tell his baseball stories about playing for the Nashville Black Vols and the Baltimore Elite Giants. Moving to the White organized leagues, he played in places like Paris, Illinois at the beginning of his career, and Victoria, Texas near the end of it.
In between, he won two Silver Gloves as the best first baseman in the minor leagues, playing in Louisville, Denver, and Richmond.
He would freely express what he had experienced and how "The Game" impacted his life. The pains and joys of baseball helped him measure the quality of his life.
It took a while, but he had moved away from the bitterness it had brought to him.
Sometimes it was hard to hear the truth, but Butch spoke the truth. It must have been difficult for him to tell. It was difficult to hear.
He had been bitter. It had been hard to deal with. Sleepless nights, sometimes with fits of anger, too often permeated the peace he found on the ball field.
Baseball Changed Him
What made him a great man was how he reacted. Baseball changed him. When I got to know him, he no longer expressed resentment, saying, "That's just the way it was." Later in life, it was more important to let children learn from what he experienced. He wanted Black children to know what Jackie Robinson had done for their race, even before Dr. Martin Luther King, Jr.
Those baseball conversations continued through the fall of 2010. He soon became seriously ill and passed away on January 27, 2011 at the age of 85.
And I miss his calls.
© 2022 by Skip Nipper. All Rights Reserved.