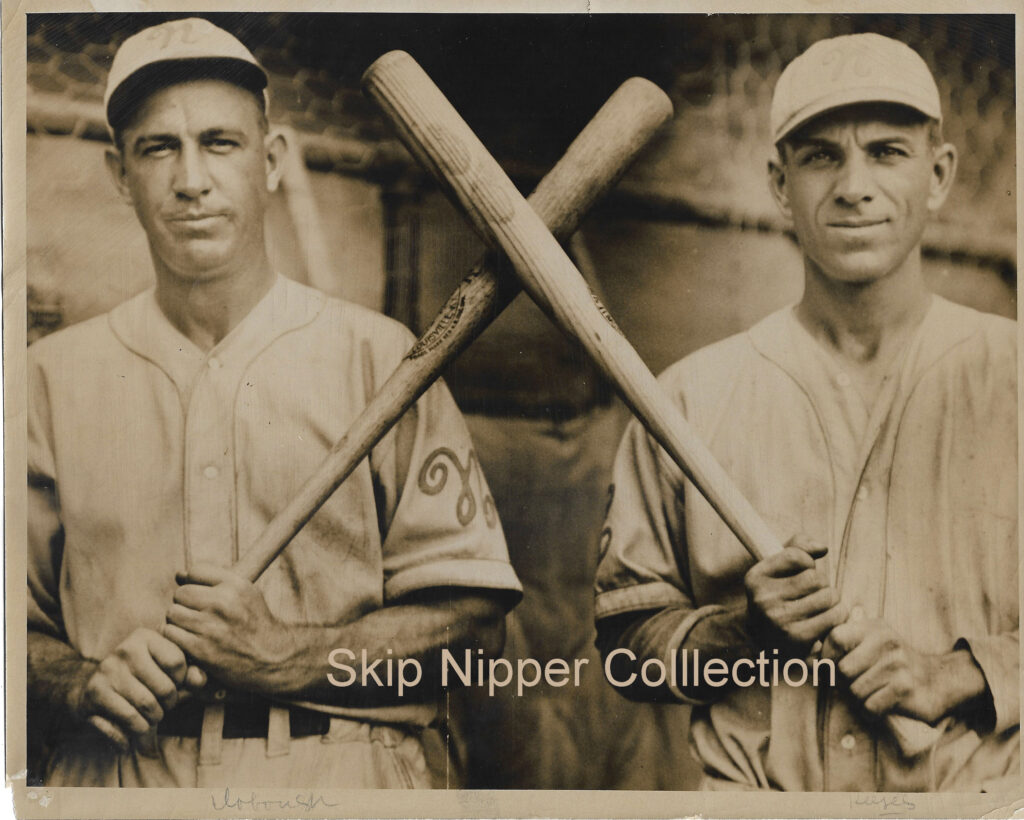 On June 16, 1932, Nashville began a 12-game home stand by splitting a double header with Birmingham. The Barons won the first game, 11-7; in the second the Vols returned the favor, 13-12.
In the opener, Moose Clabaugh hurt his knee in a first-inning collision at first base and was taken out, but slugged a pinch-hit home run against the ice house wall beyond the right-field fence in the bottom of the seventh inning of the nightcap to give the Vols the win.
Keyes Hits Two
​Earlier in the game, Stanley Keyes, right-handed hitting left fielder, hit home runs number 20 and 21. The second one cleared the center-field fence just to the right of the flag pole and hit a telephone cable. Should the path of the homer not been stopped, it is estimated the distance of the blast would have been 460 feet.
Clabaugh's Best Year in 1926
The 1932 season was Clabaugh's tenth, having played for Nashville in 1931 when he had 23 home runs. In 121 games as a member of the Tyler Trojans of the East Texas League (Class-D) in 1926, he hit 62 homers, scored 106 runs, drove in 164 RBI, and batted .376, leading his league in those categories. Those statistics earned a call to the Brooklyn Robins where he only appeared in 11 games and never played in the majors again.
Born in Albany, Missouri, on November 13, 1901, he batted left-handed, and threw right-handed. He died on July 11, 1984, in Tuscon, Arizona.
Keyes Was Career Minor Leaguer
Stanley Keyes never played in the majors, but was a profilic hitter in the minors beginning in 1924.
With Nashville in 1932, he hit .341 with a .604 slugging mark, 210 hits, 35 home runs, 35 doubles, 11 triples and 372 total bases in 155 games. He tied Elliot Bigelow for the Southern Association league lead d and was the sole leader in home runs and total bases.
His career decline began in 1933 when hit .321 with a .532 slugging percentage and 11 home runs in 87 games for Nashville, but his career continued until the end of the 1940 season. Keyes was born in Peru, Illinois, on September 9, 1898, and he passed away in 1976.
Home Run Combo
When the 1932 season ended, Clabaugh and Keyes had combined for 67 total round-trippers, far short of the record set two seasons prior, when Vols first baseman Jim Poole slugged 50 home runs and second baseman Jay Partridge added 40 to set a Southern Association record of 90 tallies.
But their mark was made in the annals of Nashville Vols history with their excellent season.
Sources
baseball-reference.com
Nashville Banner
Nashville Tennessean
newspapers.com
Russell, Fred, and George Leonard. Vol Feats 1901 – 1950: Records, History and Tales of the Nashville Baseball Club in the Southern Association: Nashville Banner, 1950.
© 2022 by Skip Nipper. All Rights Reserved.