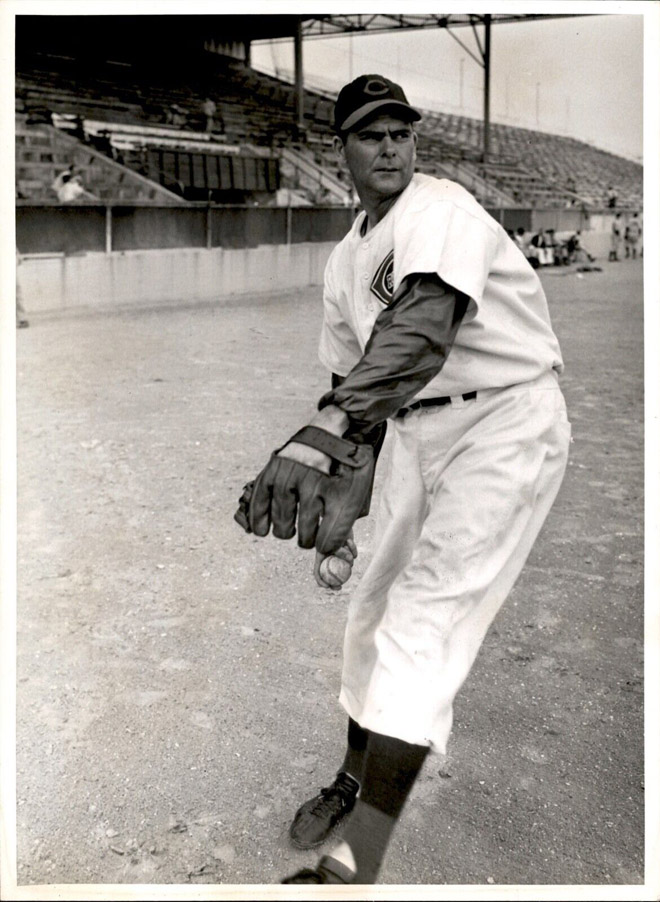 When Syracuse found a buyer at their price in July of 1935, pitcher Ray Starr was sold to Nashville. The 6' 1" 178-lb right-handed thrower had won 6 and lost 7 for the Chiefs, but even though Starr had tossed two shutouts over Toronto on May 30, winning, 9-0 and 2-0, the Red Sox affiliate had labeled him as expendable.
Nashville Glad to Have Him
The Vols were happy to have him, and he won nine games while losing five for the rest of the season for manager Lance Richbourg's club.
By the time he arrived in Nashville, Starr had been with Danville (Illinois), Marshalltown (Iowa), Topeka, Shawnee, Houston, Rochester, St. Louis Cardinals, New York Giants, Boston Braves, Minneapolis, Toronto, and Syracuse, giving the twenty-nine-year-old resident of Centralia, Illinois, twelve teams since beginning his professional career in 1926.[1]
"Iron Man" Performer
Starr, who was born on April 23, 1906, in Nowata, Oklahoma, was known for his "Iron Man" performances, not only for his two-game win in Toronto but for when he pitched in three doubleheaders and won five out of the six games for Rochester in the American Association in 1931.
Upon his arrival, Starr was used as a reliever. With the National League winning its first All-Star game against the American League in Boston in the fourth All-Star game, 4-3, the Cincinnati Reds visited Nashville to play the first night exhibition game at Sulphur Dell. Starr came on in the fourth inning, netting three strikeouts while allowing only one hit in three innings, a Babe Herman homer he golfed over the right-field fence.[2]
Starr finished the season with a 3.59 ERA, but in 1937 he was back to his best form, winning 19 games while losing 12.
Outstanding Pitching in 1937
In a doubleheader at Little Rock on June 27, 1937, once again Starr had an "Iron Man" performance, winning both games against the Travelers, 1-0 and 4-1. The two losses dropped the Travelers out of first place in the Southern Association standings. Starr gave up four hits in each game.
"While singing under the showers after the battles, Starr said it was the 16th time during his professional career that he pitched double-header victories.[3]
 Two days later, on June 30, Nashville took a doubleheader over New Orleans, 6-2 and 5-0, at Sulphur Dell. Starr struck out 11 in gaining his tenth win of the season in the opener, giving him 145 2/3 innings pitched. During that time, he has allowed 64 runs for a 3.37 ERA.
Slumped in 1938
Chuck Dressen returned to Nashville as manager in 1938, and Starr did not have a successful year, winning only 14 games and losing 20. When Larry Gilbert joined the Vols to direct the ball club after the club owner made him a one-half interest owner, there were high hopes Starr would be a 20-game winner as the popular new manager expressed to sportswriter Fred Russell.
"I figure Starr to be lots better than he showed last year," Gilbert said. "In fact, I know he is. I know he has a wonderful arm and can pitch."[4]
Nashville Tennessean sportswriter Raymond Johnson wrote about a letter he had received from Starr that explained a contribution to his hard luck year.
"Ray Starr, whose chief claim for distinction last summer was the fact that he was the only pitcher in Class A-1 ball to lose 20 games, was the sender of the good news.
"First of all and the most important is that Starr now weighs only 170 pounds. He is down to pitching weight. When he reported at Tallahassee last March, he was hog fat and tipped the scales at 205. The season has practically ended before he was able to shed all that excess poundage. It handicapped him considerably."[5]
Ready for Spring Training With Larry Gilbert
Arriving in Monroe, Louisiana, for spring training on March 21, Starr told Johnson the reason was late was he and his son, Joe, both had battled the flu.
"Starr, weighing less than 170 pounds for the first time in many years, arrived after a 400-mile drive. He looked rather peakish."[6]
In his first appearance of the 1939 season against Chattanooga on April 18, Starr relieved Ace Adams in the fifth inning. He lasted 3 1/3 innings before being chased from the mound after giving up three runs in the eighth.
But on April 22 in Knoxville, he became the first Vols pitcher to go the distance in giving up only six hits in Nashville's win over the Smokies, 8-2.[7]
Glory would not return to the man now carrying the nickname, "The Thin Man," as he was removed from the Nashville roster on May 14. His single win against four losses came in nine appearances, and his ERA had ballooned to 7.00.
Sold to Fort Worth
He continued to work out in Nashville with hopes of rejoining the club, but on May 24 it was announced his contract was sold to Ft. Worth of the Texas League. Starr balked at reporting, but after a meeting with Vols owner Fay Murray, he decided to report.[8]
Starr made an immediate impact with the Cats. In his first game, he was called on to relieve in the second inning and proceeded to hurl 18 2/3 scoreless innings, until his club won in the twentieth, 4-3.[9] He extended his string of scoreless innings to 27 2/3 when pitched a three-hit shutout against Beaumont in next game. He allowed only allowed one man to reach second base and struck out nine.[10]
Ending the Texas League season with 18 wins against seven losess, he played for both Ft. Worth and Dallas in 1940 before moving to Indianapolis in 1941. With a 20-15 record, he was called up to Cincinnati where he remained through 1943. He won 15 games for the Reds in 1942 and was named to the National League All-Star game.
End of Career and Death
In 1944 and 1945 he pitched for Pittsburgh, and in his final professional season pitched in nine games for the Chicago Cubs in 1946. He retired and moved back to his farm in Centralia, Illinois. On February 9, 1963, at the age of 56, he died of an apparent heart attack. Starr was survived by his wife, Doris (McBride), and two children, Billy, and Barbara Ann. He was buried in the town cemetery in Carlyle, Illinois.
In addition to the sources listed below, the author referred to Ray Starr's excellent SABR (Society for American Baseball Research) which may be found here: biographyhttps://sabr.org/bioproj/person/ray-starr/.
Sources
Baseball-reference.com
Nashville Banner
Nashville Tennessean
Newspapers.com
Sabr.org
© 2023 by Skip Nipper. All Rights Reserved.
---
[1] "Starr, Iron Man of Minors, Bought by Vols from Syracuse," Nashville Banner, June 28, 1936, 22
[2] "Vols Recall Glenn Murray To Play Center Field, "Nashville Banner, July 7, 1936, 8.
[3] "Starr Turns Iron Man, Hurling Vols to Double Win Over Pebs," Nashville Tennessean, June 28, 1937, 8.
[4] Fred Russell, "Sideline Sidelights" column, Nashville Banner, January 12, 1939, 12.
[5] Raymond Johnson, "One Man's Opinion" column, Nashville Tennessean, February 13, 1939, 8.
[6] Johnson, "Thornton, Potter Named to Pitch Game Today," Nashville Tennessean, March 22, 1939, 12.
[7] "Ray Starr Sets Precedent, Goes Route as Vols Defeat Smokies," Nashville Tennessean, April 23, 1939, 13.
[8] Russell, "Vols Playing .625 Ball at Home, .294 on Road," Nashville Banner, May 25, 1939, 14.
[9] "Ray Starr Makes Great Debut," Nashville Banner, June 6, 1939, 10.
[10] "Another Shutout for Ray Star," Nashville Banner, June 7, 1939, 20.