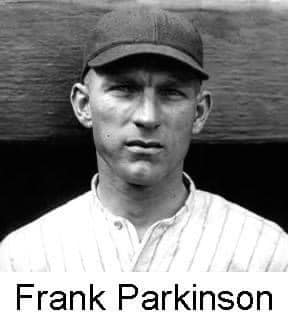 Today is the birthday of Nashville Vols infielder Frank Parkinson, born on March 23, 1895. He played 130 games at second base and 25 at third for the Vols in 1925, and hit for a .280 average during the year. The 5' 11", 175-lb. Parkinson had joined Nashville after four seasons with the Philadelphia Phillies, where in 1922 he had 562 assists which is one of the all-time highs for a second baseman.
Parkinson hit safely in the first 13 games of Nashville's 1925 season, and at year's end led the Southern Association by playing in 155 games. He gathered 161 hits, including 42 doubles, 22 triples, and four home runs.
At the end of the season, he asked Vols manager Jimmy Hamilton to trade him to a team located in cooler weather. Frank played four more seasons with Ft. Worth (A-Texas League), Toledo (AA-American Association), and Pittsfield, Springfield, and Hartford (A-Eastern League) before leaving baseball due to a knee injury.
Upon retirement, he worked for the Trenton Board of Education and was involved in local minor league administration. Born in Dickson City, Pennsylvania, he died at the age of 65 on July 4, 1960, in Trenton, New Jersey.
Sources
Baseball-reference.com
Nashville Banner
Nashville Tennessean
Newspapers.com
Sabr.org
© 2023 by Skip Nipper. All Rights Reserved.