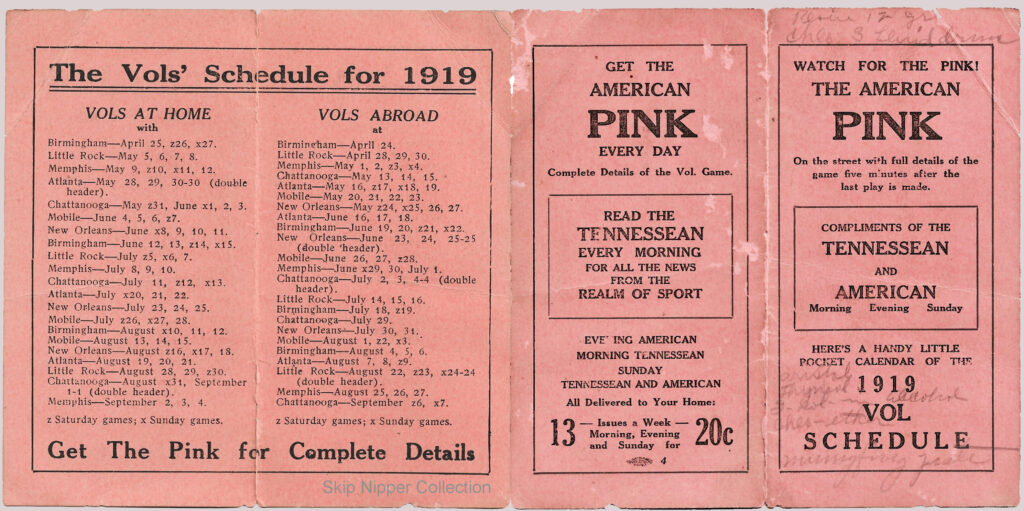 It was not a good season for Nashville in 1919, as the club finished in last place in the Southern Association. Roy Ellam's team won 55 games while losing 83, finishing 30 games behind the champion Atlanta Crackers. Tex McDonald was the shining star at the plate for the Vols with a .324 batting average, but no pitcher had a winning record with Frank Kohlbecker and Henry Helfrich both at 15-15.
Yes to Sunday Baseball
The most positive thing about Nashville baseball that year was the Tennessee Supreme Court ruling in baseball's favor in "State v. Nashville Base Ball Association," brought about from the local team playing games on Sunday in previous years in defiance of the "Blue Law" which preserved the Sabbath as a day of rest.
On April 12, it was reasoned that since baseball did not exist when the original law was passed, it did not apply to the game. Nashville Vols skipper Roy Ellam commented excitedly, "De-elighted!"
Sources
Baseball.reference
Nashville Banner
Nashville Tennessean
Newspapers.com
© 2023 by Skip Nipper. All Rights Reserved.