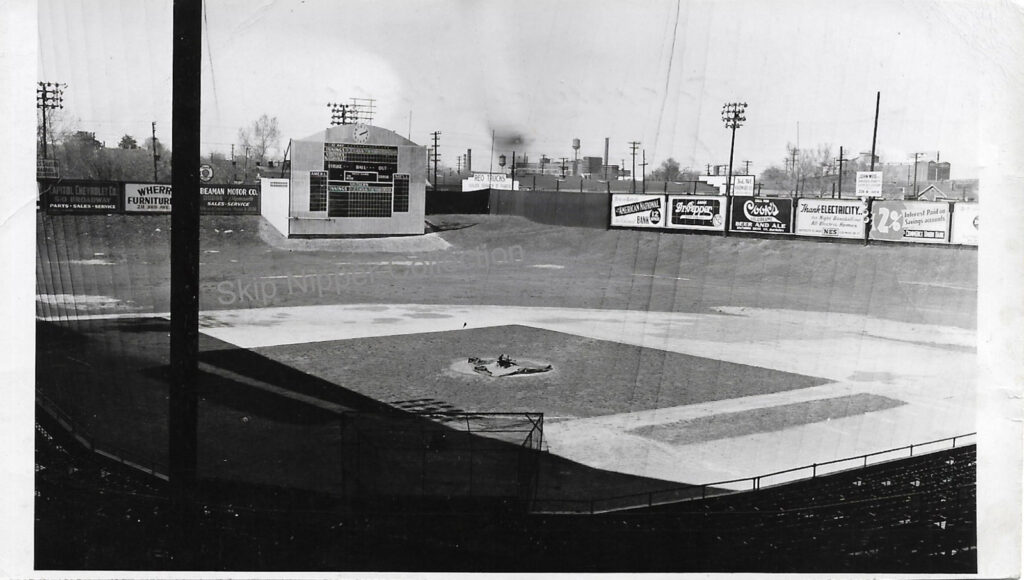 Nashville's mammoth scoreboard was constructed in the spring of 1949. The structure was 65 feet wide and 45 feet tall and was difficult to see beyond third base in the stands, and impossible to see from the Negro bleachers.
Too Big For a Small Ballpark?
Nashville Tennessean sports columnist Raymond Johnson felt it did not fit the position in which it was placed.
"It appears entirely too large for the league's smallest park," wrote Johnson. "Some of this appearance will be erased as soon as painters replace the black stretches on it with colorful signs."[1]
Criticism by Chattanooga Manager, George Myatt
Not everyone was pleased with the monstrosity. Sportswriter Fred Russell reported that Chattanooga Manager George Myatt was critical of it.
"The infield is rough, with little grass on it, and the already too-small outfield has been reduced by construction of a major league scoreboard within the playing area in what already was a Class D ballpark."[2]
Similar to Ebbets Field Scoreboard
Mimicking the style and size of Brooklyn's scoreboard at Ebbets Field, both were famously large. In SABR's Ebbets Field Essays, writer Bob McGee describes the National League ball club's scoreboard:[3]
"There was the scoreboard that jutted out from the right-center field wall, along the right field wall that separated Bedford Avenue's sidewalk from the field; it was the only wall in the ballpark that did not have a double decked stand behind it. The scoreboard, at each side, angled back to the wall, which was twenty feet high, topped by a twenty-foot screen. The top ten feet of that wall were straight; the bottom ten feet were angled back towards the infield, wreaking unpredictable havoc with caroming fly balls."
The new structure added to the flavor of Sulphur Dell's outfield hills, the painted fence that surrounded the ballpark, and the short right-field porch. The scoreboard's colorful advertisements for automobile dealers, insurance companies, banks, could not be topped by Coca-Cola, the most prevalent ad of all.
Sources
Nashville Banner
Nashville Tennessean
Newspapers.com
SABR.org
Notes
[1] Raymond Johnson, "Southern Exhibition Crowds Totaled 64,825 Sunday, One Man's Opinion Column, Nashville Tennessean, April 12, 1949, 20.
[2] Fred Russell, "The Barna-Storm," Sidelines Column, Nashville Banner, April 20, 1949, 22.
[3] 1947 Brooklyn Dodgers essays/ Ebbets Field, 1947, https://sabr.org/journal/article/ebbets-field-1947/, retrieved June 28, 2023.
© 2023 by Skip Nipper. All Rights Reserved.