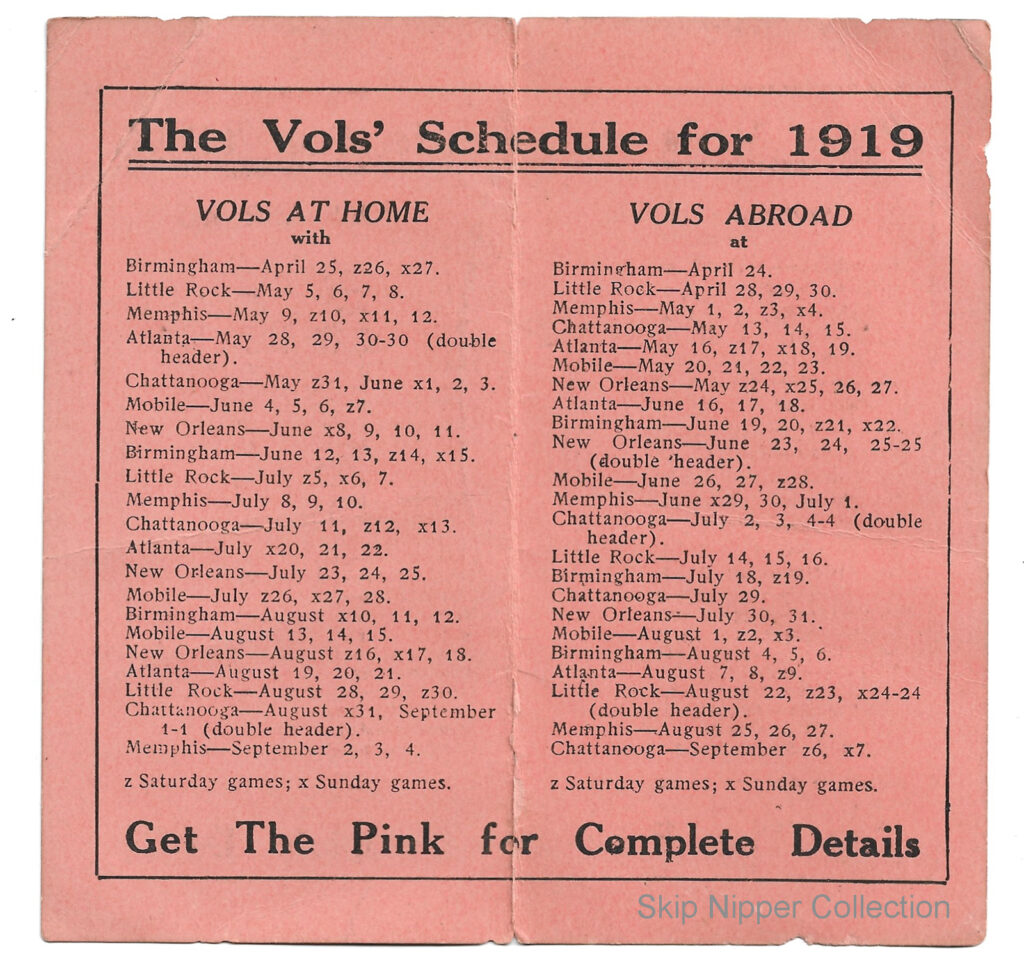 It was not a good season for Nashville in 1919, as the club finished in last place in the Southern Association. Roy Ellam's team won 55 games while losing 83, finishing 30 games behind the champion Atlanta Crackers. Tex McDonald was the shining star at the plate for the Vols with a .324 batting average, but no pitcher had a winning record, with Frank Kohlbecker and Henry Helfrich both at 15-15.
Sunday Baseball Up in the Air
The most positive thing about Nashville baseball that year was the Tennessee Supreme Court ruling in baseball's favor in "State v. Nashville Base Ball Association," brought about from the local team playing games on Sundays in previous years in defiance of the "Blue Law" which preserved the Sabbath as a day of rest.
The infraction became a conflict on May 28, 1911, when a league game was played in Nashville for the first time in twenty-five years on a Sunday. Play is interrupted by deputy sheriffs who arrest umpire Colliflower, but the other umpire, Fitzsimmons, takes his place, and the game continues, delayed for only ten minutes total. The play stopped again when deputies served warrants on players, arresting five New Orleans players, nine Nashville players, the umpire Fitzsimmons, Nashville manager Bill Schwartz, and Nashville president William Hirsig.[1]
Officials made no effort to end the game, and New Orleans won, 10-8.
Warrants Issued
Players and officials of the Nashville Baseball Club arrested for playing baseball on Sunday were bound over to a grand jury the next day under $250 bonds signed by Hirsig. Those bound over include umpires Colliflower and Fitzsimmons; William Bordeiser, Nashville business manager; Schwartz; players Julius "Doc" Wiseman, Juan Viola, Harry Bay, Red Smith, Henry Keupper, Warren Seabaugh, and Frank Bair; New Orleans players Doc Johnston, Jay Kirke, Dave Callahan, Walt Doane, Chick Frazer, and Thurmond Veasey.[2]
The Nashville Christian Union announced its purpose of waging a crusade against all forms of "Sunday amusement of a flagrant sort."[3]
Despite protests and threats of additional warrants, games continued on Sundays.
Injunctions Against and For
On May 4, 1912, the court issued an injunction to the Nashville club for playing games on Sunday in violation of laws. The Vols forfeited the day's game in Memphis, as the club was placed under temporary receivership by Chancellor John Allen on May 3.[4]
However, on August 26, 1916, Judge Thomas E. Matthews of the First Circuit Court denied an injunction to prevent baseball from being played on Sunday, holding that there was no statute against Sunday baseball. On the question of Sunday ball being a nuisance, Judge Matthews stated that he had attended a game with the consent of counsel and had witnessed no improper conduct.
"He estimated the attendance at about 3,500 persons. In his opinion, he held that there was no unseemly conduct, that there was no profanity or drunkenness. After the game, he made a tour of the neighborhood adjacent to the baseball par and did not find any objection to the baseball game."[5]
Supreme Court Decision in 1919
John D. Martin, president of the Southern Association, arrived in Nashville on March 28, 1919, which happened to be the first day of Nashville's spring training held at Sulphur Dell, to urge the State Supreme Court to render an early decision in allowing Sunday baseball games.
"The claim was made on a law enacted in 1803 that made it unlawful for any "merchant, artificer, tradesman, farmer, or other person" to do or exercise "any of the common avocations of life," except acts of real necessity or charity, on Sunday."[6]
On April 12, the court reasoned that baseball did not exist when the original law was passed; it did not apply to the game.
"The game was unknown at the time the statute was enacted and therefore could not have been within the contemplation of the legislature which enacted the law."[7]
League president Martin issued a statement, voicing his pleasure with the judgement, as the Southern Association had two additional Tennessee teams besides Nashville: Memphis and Chattanooga.
"Our main contention in appealing from the decision of the Court of Appeals, which granted an injunction to restrain the Nashville club from playing Sunday games, was that as baseball was not introduced into this country until 1835, laws passed in 1803 could not apply. This decision definitely settles the Sunday baseball issue in the state."[8]
Nashville Vols skipper Roy Ellam commented excitedly, "De-elighted!"[9]
Sources
Baseball-reference.com
Nashville Banner
Nashville Tennessean and American
Newspapers.com
Sabr.org
Notes
[1] "Sunday Ball Game Played," Nashville Tennessean and American, May 29, 1911, 1.
[2] "Sunday Ball Players to Criminal Court," Nashville Tennessean and American, May 30, 1911, 12.
[3] "Sunday Game Condemned," Nashville Tennessean and American, May 30, 1911, 10
[4] "Clerk and Master to Take Charge of Local Ball Team," Nashville Tennessean and American, May 5, 1912, 1.
[5] "Victory for Sunday Ball," Nashville Banner, August 26, 1916, 1.
[6] William H. Swiggart, Jr., "Sunday Baseball in State Allowed by Supreme Court," Nashville Tennessean and American, April 13, 1919, 1.
[7] Ibid.
[8] Bill Graham, "Sunday Baseball is Not Unlawful Says Supreme Court," Nashville Tennessean and American, April 13, 1919, 51.
[9] Ibid.
© 2023 by Skip Nipper. All Rights Reserved.