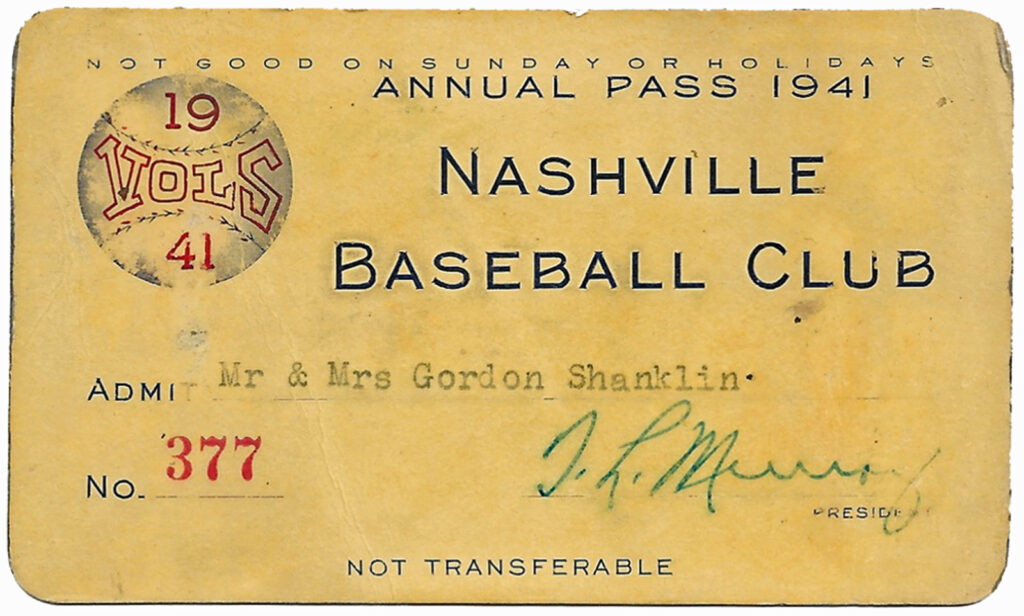 The name printed on this 1941 Nashville Vols annual pass is "Gordon Shanklin." He was an attorney and had a connection to baseball besides being a Nashville Vols fan. It was presented by the local Southern Association team and signed by team president, T. L. Murray.
Born on December 10, 1909, in Elkton, Kentucky, the son of Kentucky State Representative William Shanklin, he was admitted to the Vanderbilt Training School in Elkton before enrolling in Vanderbilt University in 1928 to study law.
A member of the Commodore football team, he earned football letters in 1930 and 1931 and was a pitcher on the Vanderbilt baseball team coached by Bill Schwartz, who was manager of the Vols between 1911 and 1915. He graduated with B. A. and LL. B. degrees in 1935 and practiced law in Nashville from 1934 to 1943.
Shanklin joined the FBI in 1943 and headed the FBI's offices in Pittsburgh, Mobile, El Paso, and Honolulu before being named special agent in charge of the FBI's Dallas office in April 1963, seven months before the shooting of President John F. Kennedy.
Shanklin never spoke publicly about the FBI's investigation and was called ″No Comment Shanklin″ by reporters.
The Federal Bureau of Investigation completed a new Dallas office in 2002 and was named in honor of James Gordon Shanklin. He died on July 11, 1988, in Dallas, Texas, United States, seventy-eight years of age, and was buried in Dallas.
Sources
Nashville Banner
Newspapers.com
Vanderbilt Football Media Guide
© 2023 by Skip Nipper. All Rights Reserved.