Opening day has come and gone for the 2021 baseball season, though plenty of ball is yet to be played. Parades, prizes, contests, and speeches have kicked off nearly every season, at least in the old days, but each one is usually erased from memory after the long season ends.
By my count, Nashville has celebrated 105 season kickoffs since the city's foray as a member of the Southern Association beginning in 1901. With no pro baseball in 1962 when the Vols took a year off yet was resurrected for a final season in 1963, baseball was absent until 1977 when the Sounds came to life. The ball club continues to this day, and Nashville fans continue to prove they are in love with the great game.
The Nashville Vols participated in 62 opening days before going belly up. Below is the opening day roster for each season by the last name. Southern Association regular-season championship years are highlighted in bold.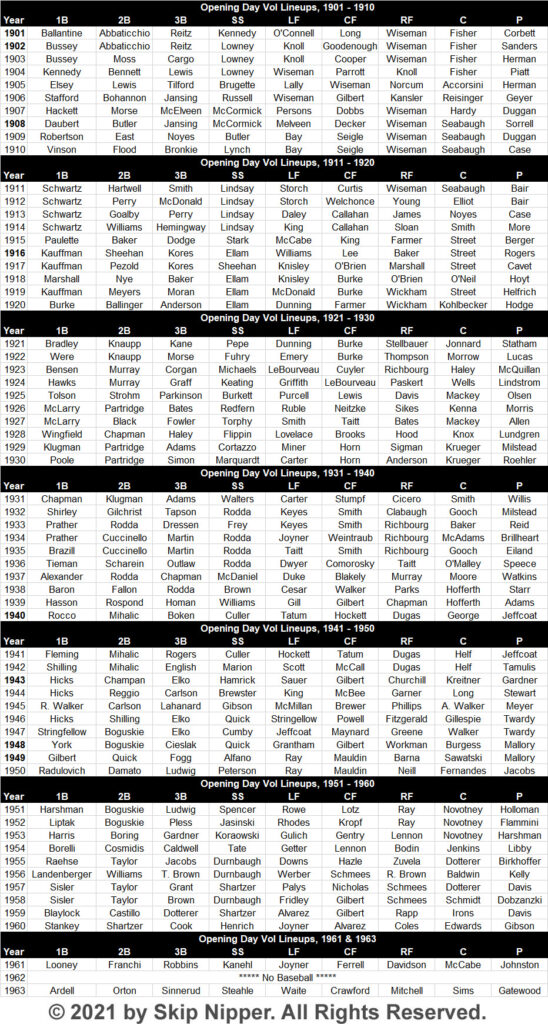 Sources
Nashville Banner
Nashville Tennessean
Newspapers.com
Sabr.org
© 2021 by Skip Nipper. All Rights Reserved.