For 20 or so years, I have accumulated photos, programs, pinbacks, pennants, and a variety of other items of interest with a connection to Nashville baseball and the history of the game. To me, they are a look back to days gone by, when local baseball was in the mind, heart, and tongue of almost every fan.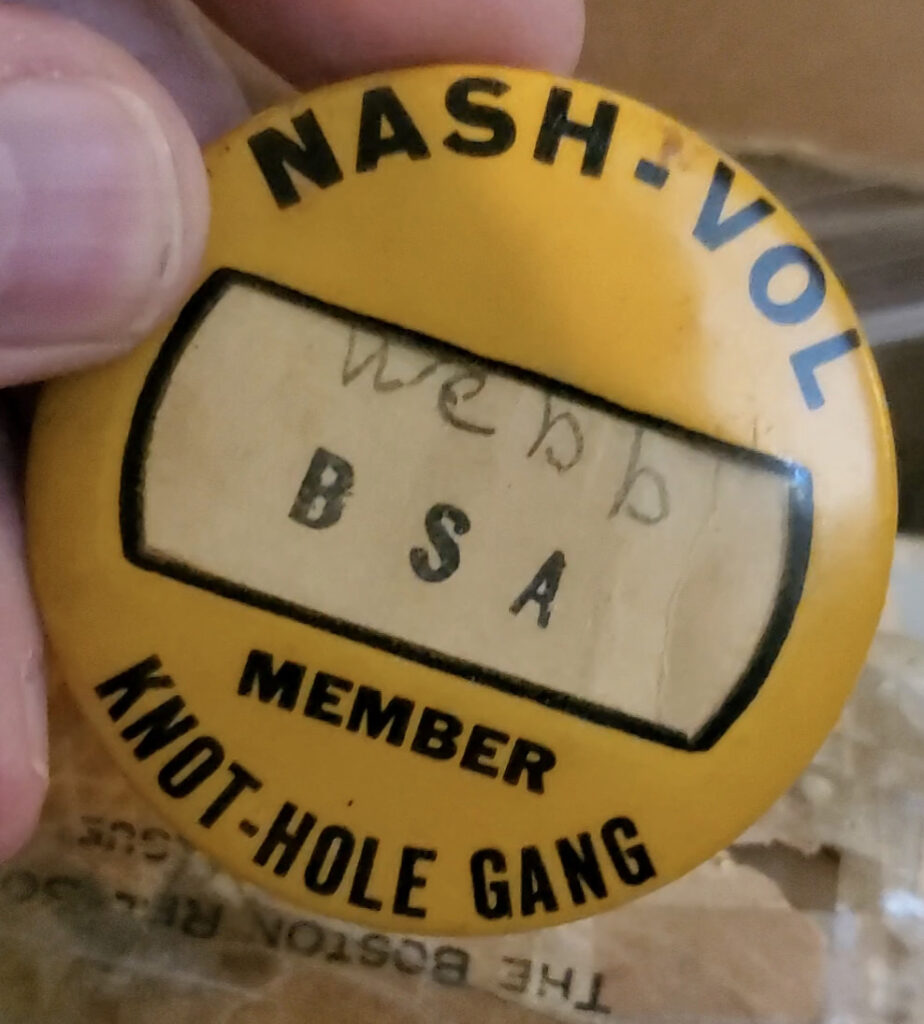 Feeling the need to gather some evidence of a forgotten player, coach, or fan, including anything attachment to Sulphur Dell, Herschel Greer Stadium, and impossibly, Tom Wilson Park, has been a formidable, but fun, task.
In the past few days, I have found myself rummaging through boxes, files, and paperwork to revisit as many things as I could, and the result of seeing what things been stored away has been a pleasant surprise. Newspaper clippings, letters, contracts, signed baseballs, and jerseys have brought back perceived memories.
Photos and Mementos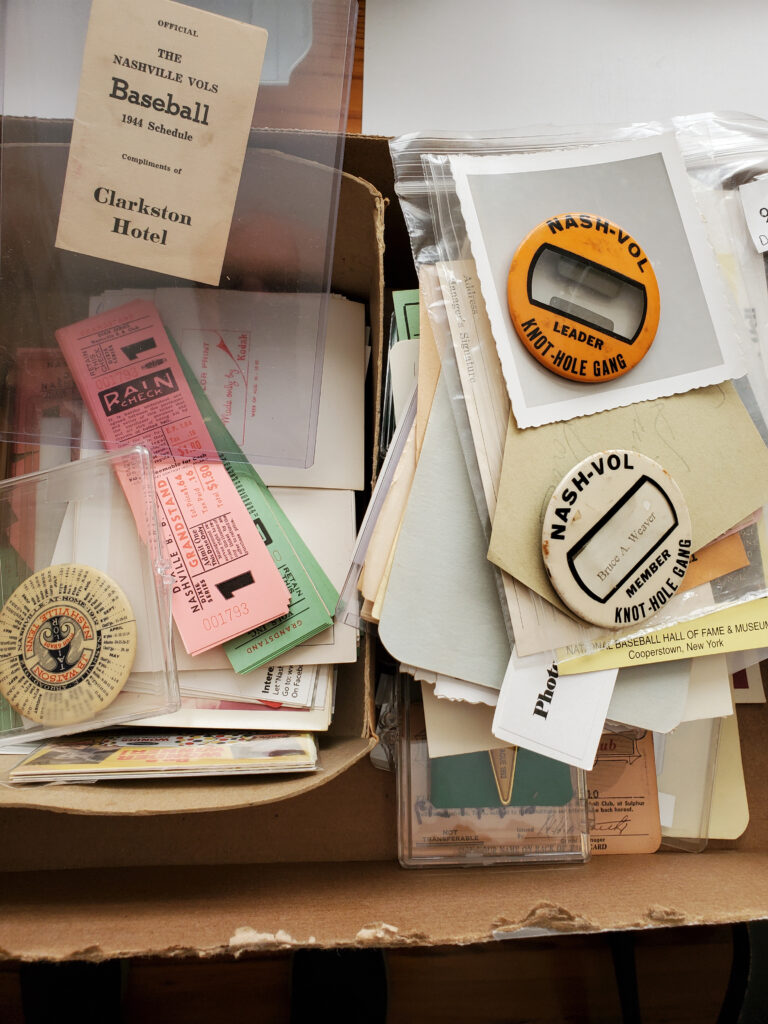 What I mean by that is this: I might not have a memory of a game played at Sulphur Dell in 1956, for example, but the program I have from one of the games played that year surely was a memento for someone who was there. Knowing that makes the quest a satisfying journey.
The quest is ongoing.
Today, I ran across a picture that I remember having, although I have no idea where I got it. It may have been a single photo purchased on eBay, part of a collection of photographs at an estate sale, or it could have been given to me. At any rate, it was interesting for a variety of reasons.
It is a picture of a young man, dressed in a Nashville Vols uniform and smiling. From the signage in the background, it was taken at Sulphur Dell. The image is slightly over-exposed with a red tint, but it is a great image, nonetheless. Stamped on the back is a Kodacolor print, also in red, with a small, printed date, "Week of August 16-58 RF" on the back.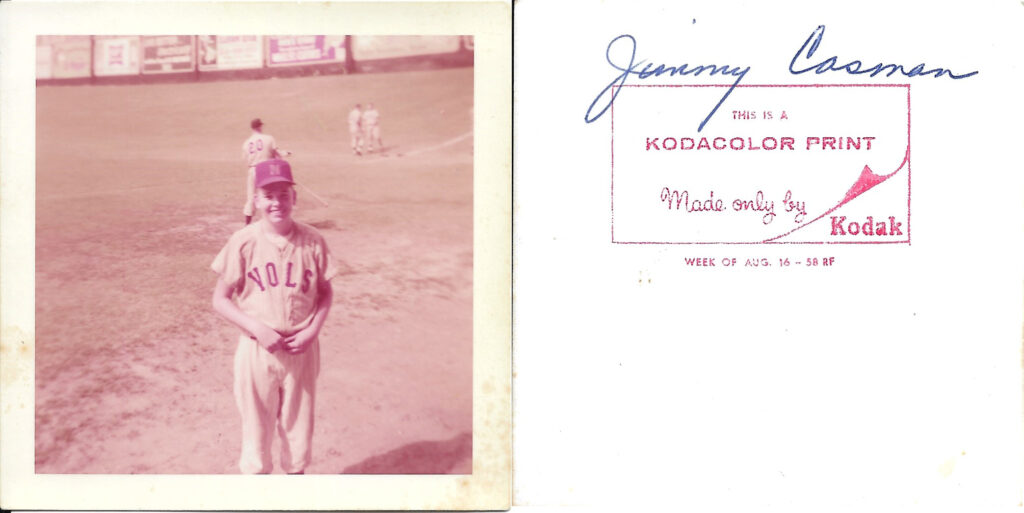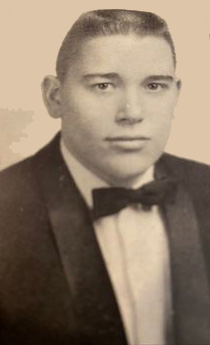 Cosman, Nashville Vols Batboy
Above the stamp someone has written in blue ink, "Jimmy Cosman," and that piqued my curiosity as I knew that Jim Cosman, the professional baseball player who was born somewhere in New York but graduated from Nashville's Father Ryan High School, did not play for the Nashville Vols, and certainly would not be able to due to his age. Born on February 19, 1943, he would have been 15 years old at the time the picture was taken.
Referring to Cosman's SABR (Society for American Baseball Research) online biography, I learned that he had become a bat boy for the Vols in 1958, arranged by a neighbor along with Nashville manager Dick Sisler. Betty-Jane Maples Taylor, wife of Nashville Vols infielder Larry Taylor, says that it was not unusual for the Cosmans to take in a ball player for the season.
"Larry roomed with the Cosman family one year when playing for the Vols. They were good friends of his," she wrote.
Another fan, Phil Barnes, says he had a connection to the Cosman family.
He wrote to me, "His mother was my 3rd grade teacher at Crieve Hall Elementary. Jim was a super nice guy and came to our classroom one day signing autographs for us boys in 1966."
Teammate Comments
Teammate Wayne Cartwright has a special memory of Cosman.
"I played on the 1962 Nashville Bridge Company Gilbert league team which was managed by George Archie. Jim was released by the Pittsburgh Pirate organization and signed with us about 4 or 5 games into the Gilbert league season. We went on to win the championship that season. I played center field and spent most of the summer standing out there and watching him strike out most of the people he faced."
Another teammate, Joe Benedict, also has great memories of Jimmy.
"He was an upper classman when I was a freshman on the Ryan baseball team, but he was such a nice guy to all his teammates no matter their year in school!"
With special memories such as these, it says much about the admiration people had for him. It adds to the narrative, too; I was pleased to find the photograph, along with others, and I am glad to be able to make a connection to it and Cosman.
Hopes for a Major League Career
He spent one season on the freshman team at Middle Tennessee State College, and had great hopes for a major league career. It did go as he had wanted. He won two games in the major leagues, both as a member of the St. Louis Cardinals pitching staff. Called up at the end of the 1966 season, he earned his first big-league win on Sunday, October 2, 1966, at Busch Stadium against the Chicago Cubs.
Even though the Cubs were dead-last in the National League standings, and it was the final game of the season, their line-up included future Hall of Famers Ernie Banks, Ron Santo, and Billy Williams. Williams and Glenn Beckert singled in the game, the only hits allowed by Cosman. Beckert's hit came in the ninth with one out or Cosman's feat would have been an elusive one-hitter.
After spending 16 games with St. Louis, Cardinals manager Red Schoendienst told him just 45 minutes before the game was to begin that the youngster would be starting.
"I was running in the outfield, shagging and everything else when I first found out I was supposed to pitch…" said Cosman.[1]
Critique by a Baseball Sage
A 6'4", 205-lb. Righthander, he told Nashville Tennessean sportswriter Bob Teitlebaum how he took advantage of sage advice from an old pro who was coaching one of his teams, George Archie.
"He told me I was too slow to do anything else and he thought I had a chance to make it as a pitcher."[2]
Benedict had a similar experience with Archie.
"George once told me as a shortstop at Vandy that "you can't go to your left, you can't go to your right, and have trouble with the ones hit at you … but you can hit". I cherished that evaluation!"
Struck Out Mays, Gave Up Homer to Aaron
Cosman would appear in 10 games for the Cardinals in 1967 without much success, winning his second and last big-league game on Monday, June 26, against San Francisco in St. Louis. He started and pitched well by allowing four hits and one run before being relieved by Nelson Briles with one out in the ninth inning. Cosman struck out three in the game, Jesus Alou twice, and once, future Hall of Famer, Willie Mays.

Cosman started four more games with mixed results and was relegated to the minor leagues for four seasons, although he appeared in relief on Thursday, April 30, 1970, for the Chicago Cubs against the Braves at Atlanta Stadium.
The first batter he faced was Hank Aaron, who homered, his 562nd career round-tripper.[3]
Home to Nashville
Cosman's final season was in 1971, although he continued to pitch for a few summers in Nashville's Tri-State League for the Tennessee Pride Eggs team. He spent over 30 years in the waste management industry. On January 7, 2013, he passed away and was buried at Parma Union Cemetery in Hilton, New York.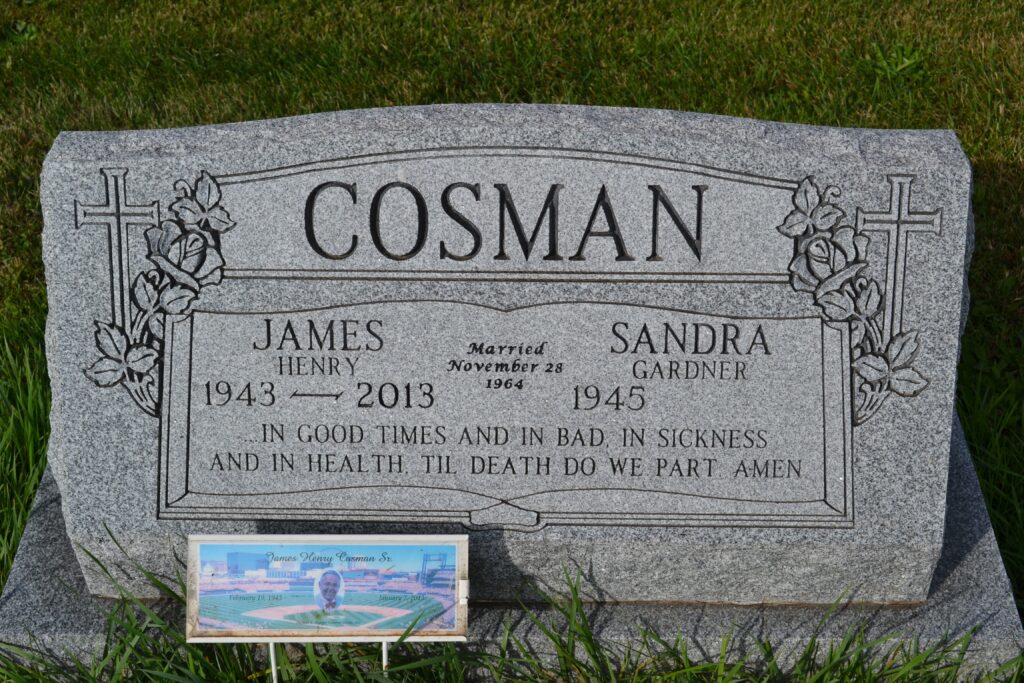 The man with much promise began his baseball career in Nashville, and the photograph of him in his Nashville Vols bat boy uniform is a testament to his love for the game.
Author's note: Besides the sources listed below, Eric Vickrey's biography (https://sabr.org/bioproj/person/jim-cosman/#_edn1) on Jim Cosman published as part of SABR's Bio-Project, was a valuable resource. (Thank you Eric!)
Thanks to Betty-Jane Maples Taylor, Phil Barnes, Wayne Cartwright, and Joe Benedict for their contribution to this story, and to Joe for providing Cosman's senior class picture.
Sources
Ancestry.com
Baseball-reference.com
Findagrave.com
Nashville Tennessean
Newspapers.com
Retrosheet.org
St. Louis Post-Dispatch
The Sporting News Baseball Players Contract Cards Collection
Notes
[1] Neal Russon, "Red Has Surprise, So Does Cosman," St. Louis Post-Dispatch, October 3, 1966, 37.
[2] Bob Teitlebaum, "Cosman 'Surprised,' Then Stuns Cubs," Nashville Tennessean, October 4, 1966, 17.
[3] "In Honor of Hank Aaron's 755 Steroid Free Home Runs," http://755homeruns.com, retrieved September 23, 2022.
© 2022 by Skip Nipper. All Rights Reserved.